On July 27, OPPO officially released its new smart watch series, OPPO Watch 2. As the second-generation upgrade of OPPO smart wearable devices, it brings 3 versions this time, namely OPPO Watch 2 46mm, OPPO Watch 2 42mm and OPPO Watch 2 42mm Bluetooth version, the test product I received this time is the OPPO Watch 2 46mm version, so all the content of the following full text is mainly based on the product experience of this version.
The specific configuration parameters of the OPPO Watch 2 46mm version are as follows: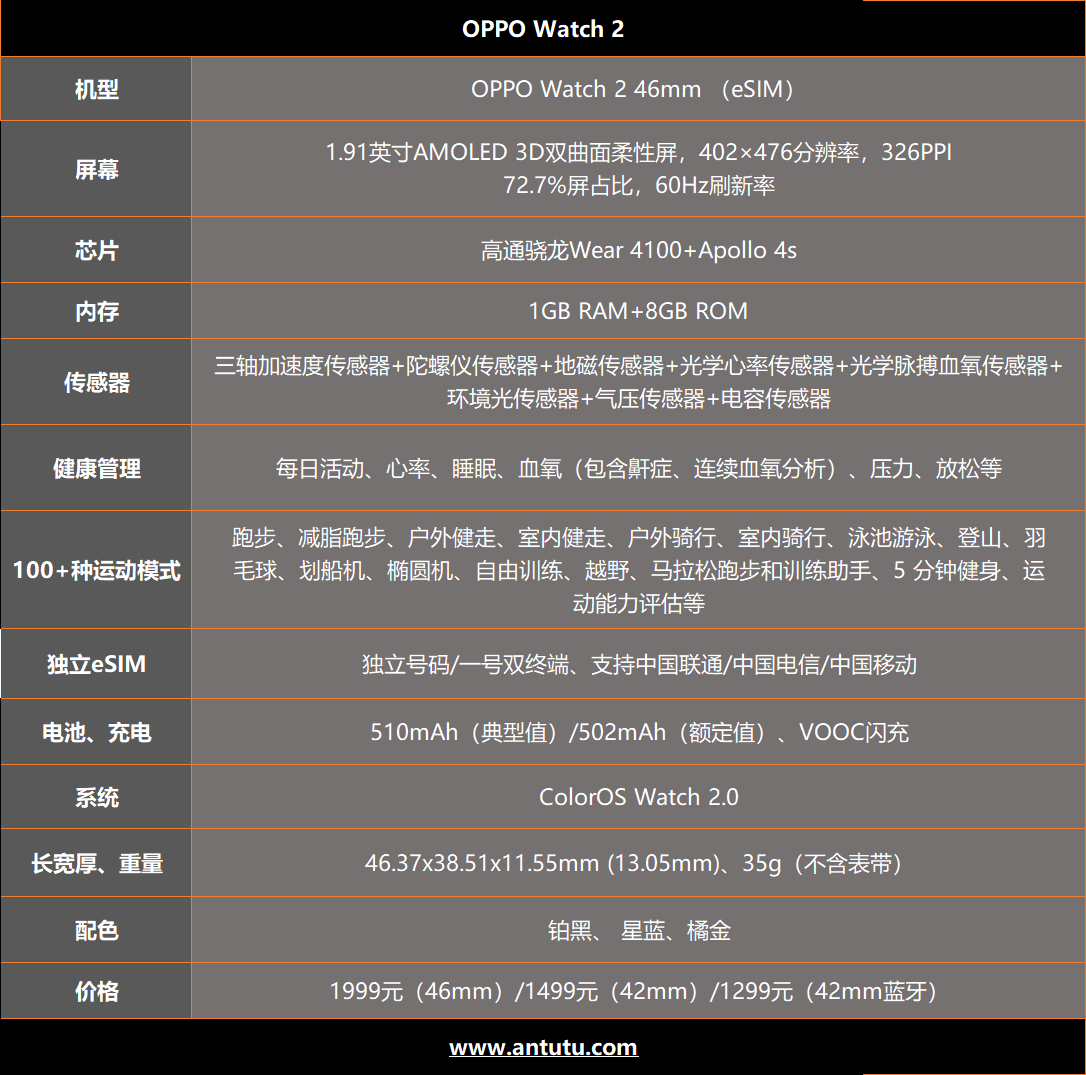 Exterior:
In fact, everyone can rest assured in terms of appearance and packaging, because domestic smart devices have never lost in packaging, and smart watches have not entered the ranks of "environmental protection" like mobile phones, so there are random chargers. and data lines.
The white box + black product name + product body clearly tells everyone the identity and product model of OPPO Watch 2 at a glance.
The contents of the package are also relatively simple, the watch body, the magnetic split charging base and the data cable, these three things are the most important, and you can just put them there quietly.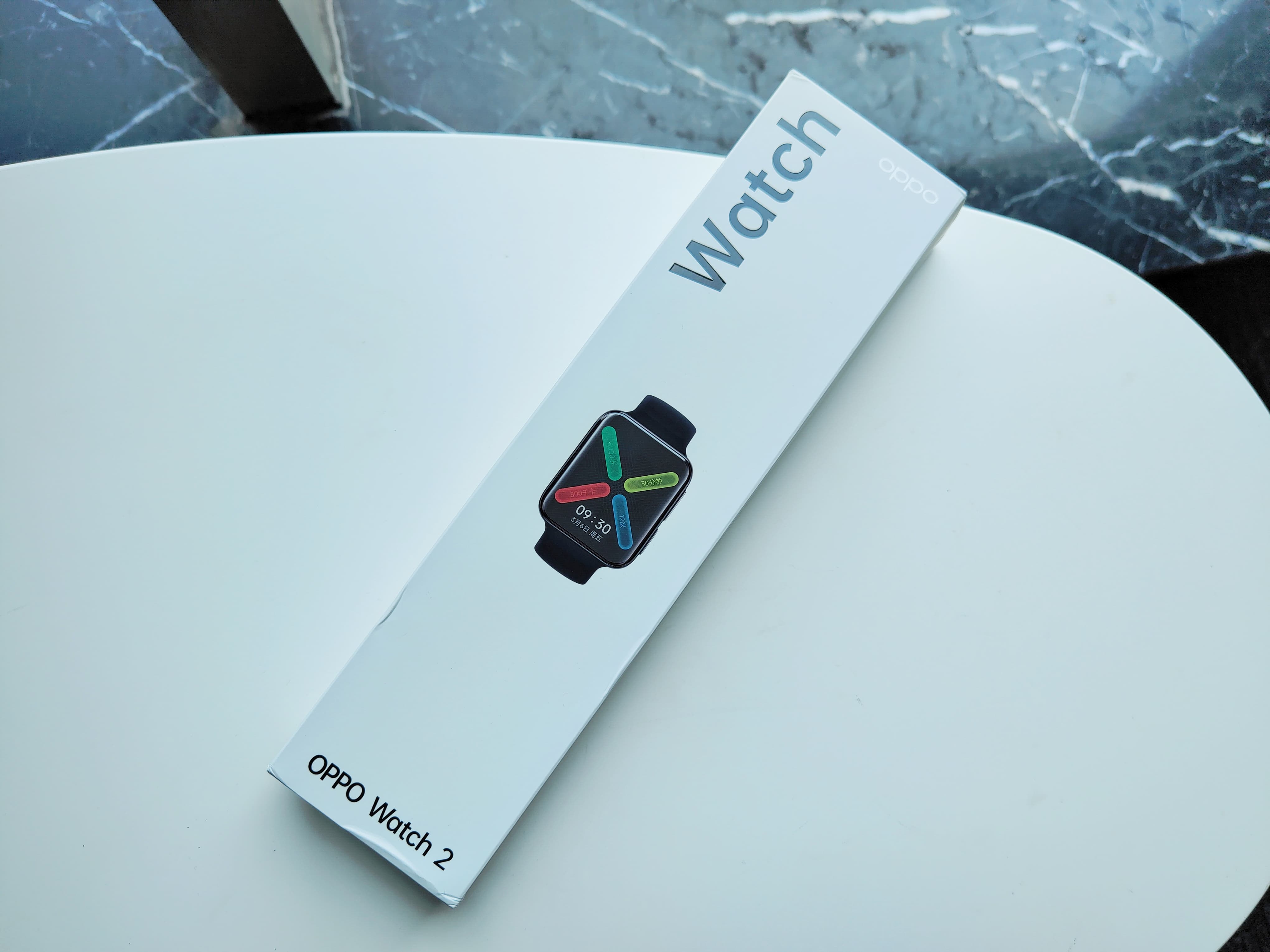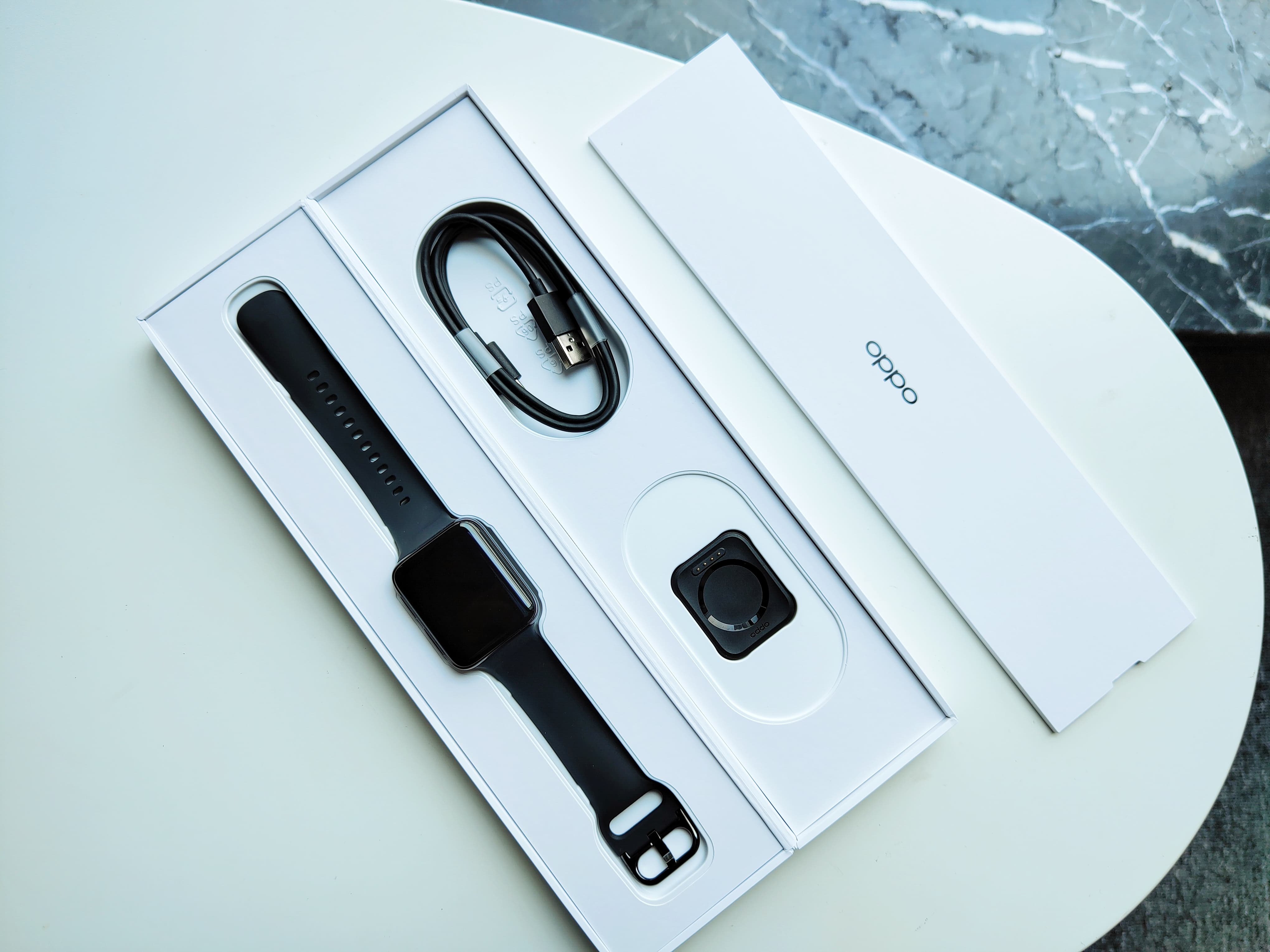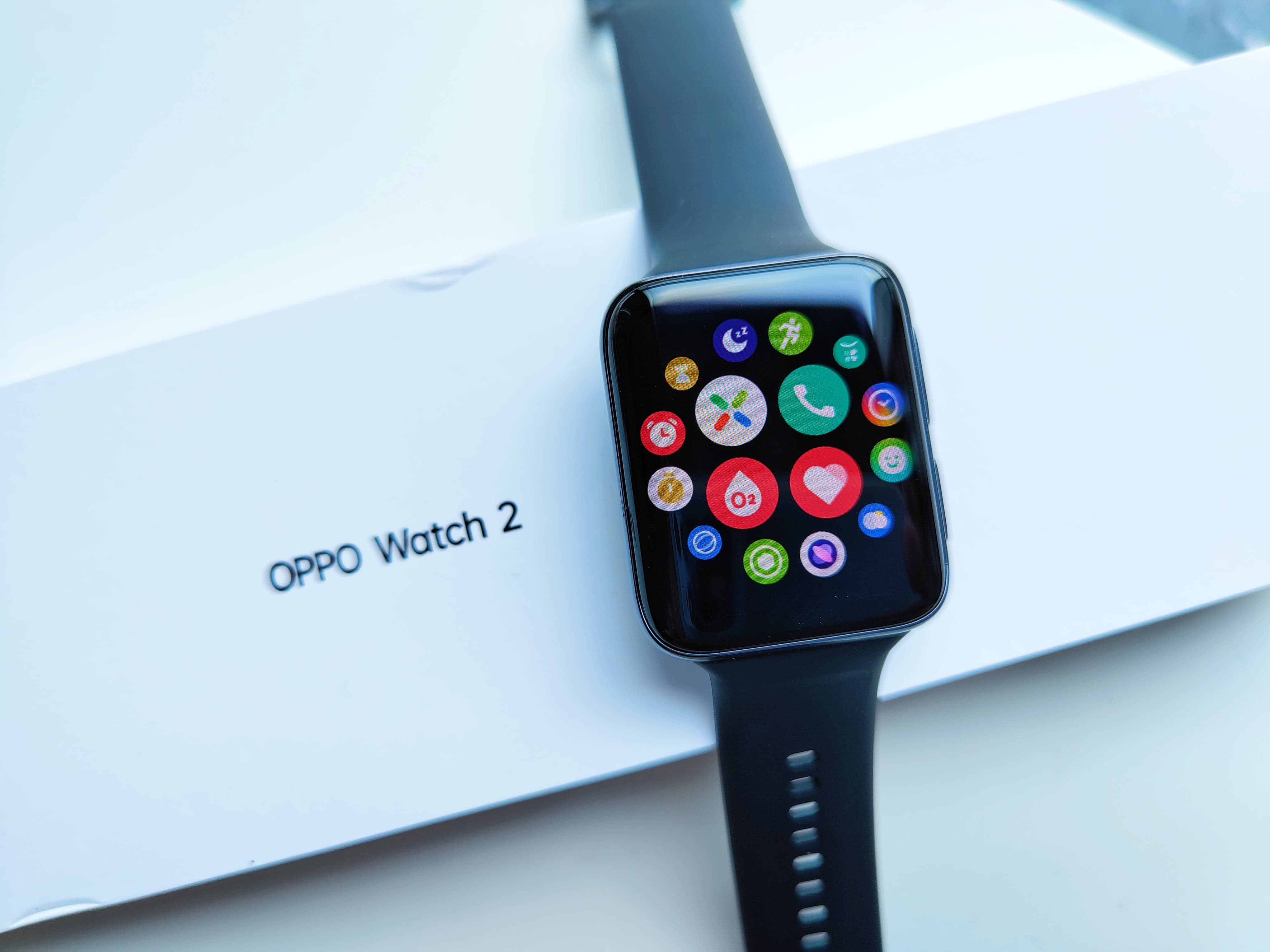 In the design of the watch itself, because this is a 46mm version, as the name suggests, its screen size will be larger than that of 42mm. OPPO Watch 2 46mm (eSIM) is equipped with a 1.91-inch AMOLED 3D hyperboloid flexible square screen. After wearing it on the wrist, the curved curvature of the screen will make the watch dial and the wrist fit better, and the look and feel will be lighter and thinner. Because of the use of a hyperboloid screen, its screen ratio is also very impressive, reaching 72.7%. Users The field of vision will be better when in use.
The screen resolution is 402×476, and the PPI reaches 326. At the same time, OPPO also added a display effect to stimulate brightness under strong light. An ultra-high-definition display allows users to see the screen clearly even in strong sunlight. content.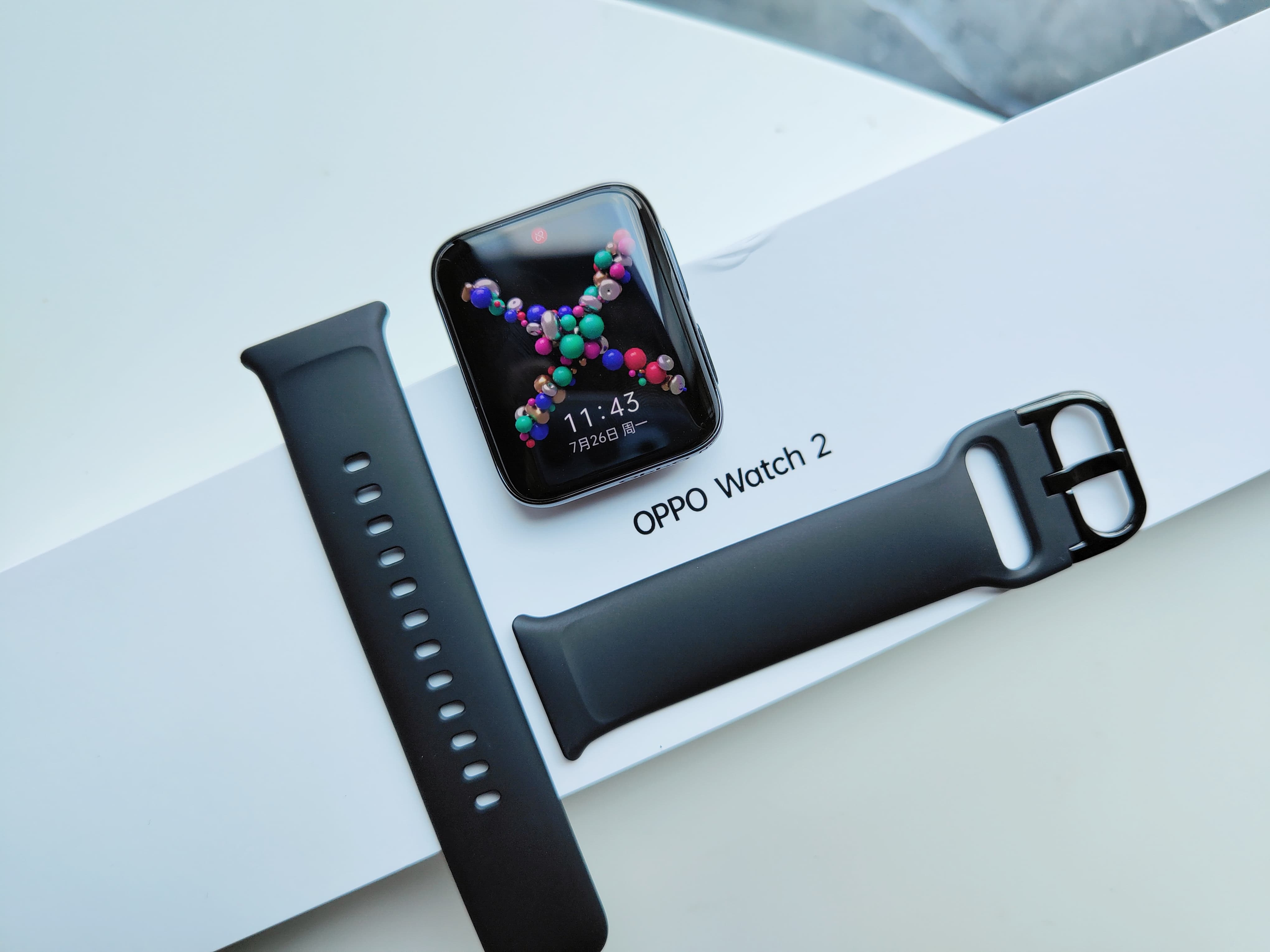 The middle frame of OPPO Watch 2 46mm watch is made of metal material, and the thickness is maintained at 4.4mm. OPPO also brings a new strap design. The new strap design is both comfortable and high-end, which can meet the needs of business, leisure and entertainment. It can also realize 1S quick detachment of the strap, 2-step buckle, and only three steps to wear, saving time and effort.
The right part of the watch is an external speaker, and the left side is two buttons. The upper one can be understood as the home button on the mobile phone, and the other one is the background button, and then you can switch background applications like a mobile phone. Quickly switch or close background apps.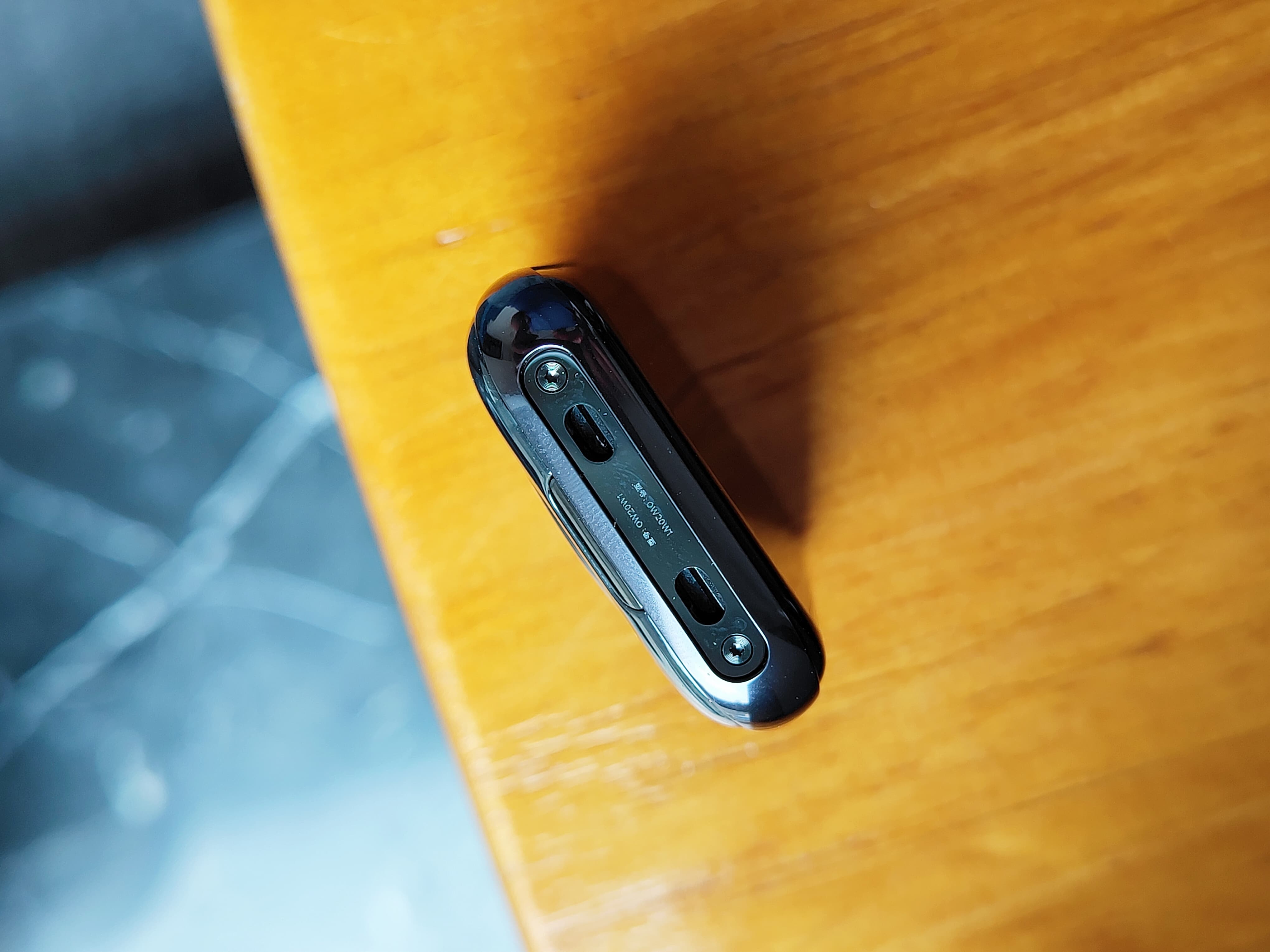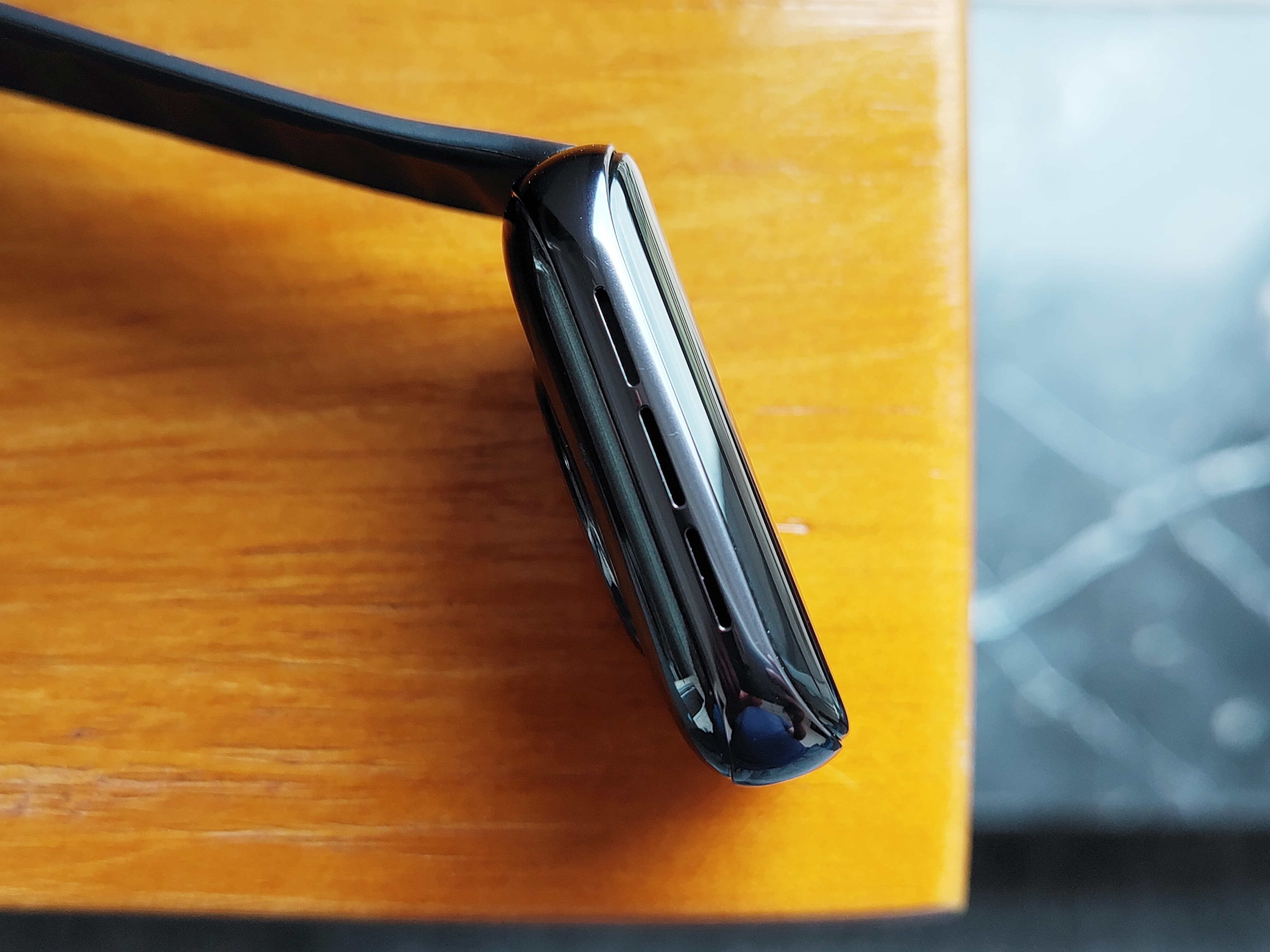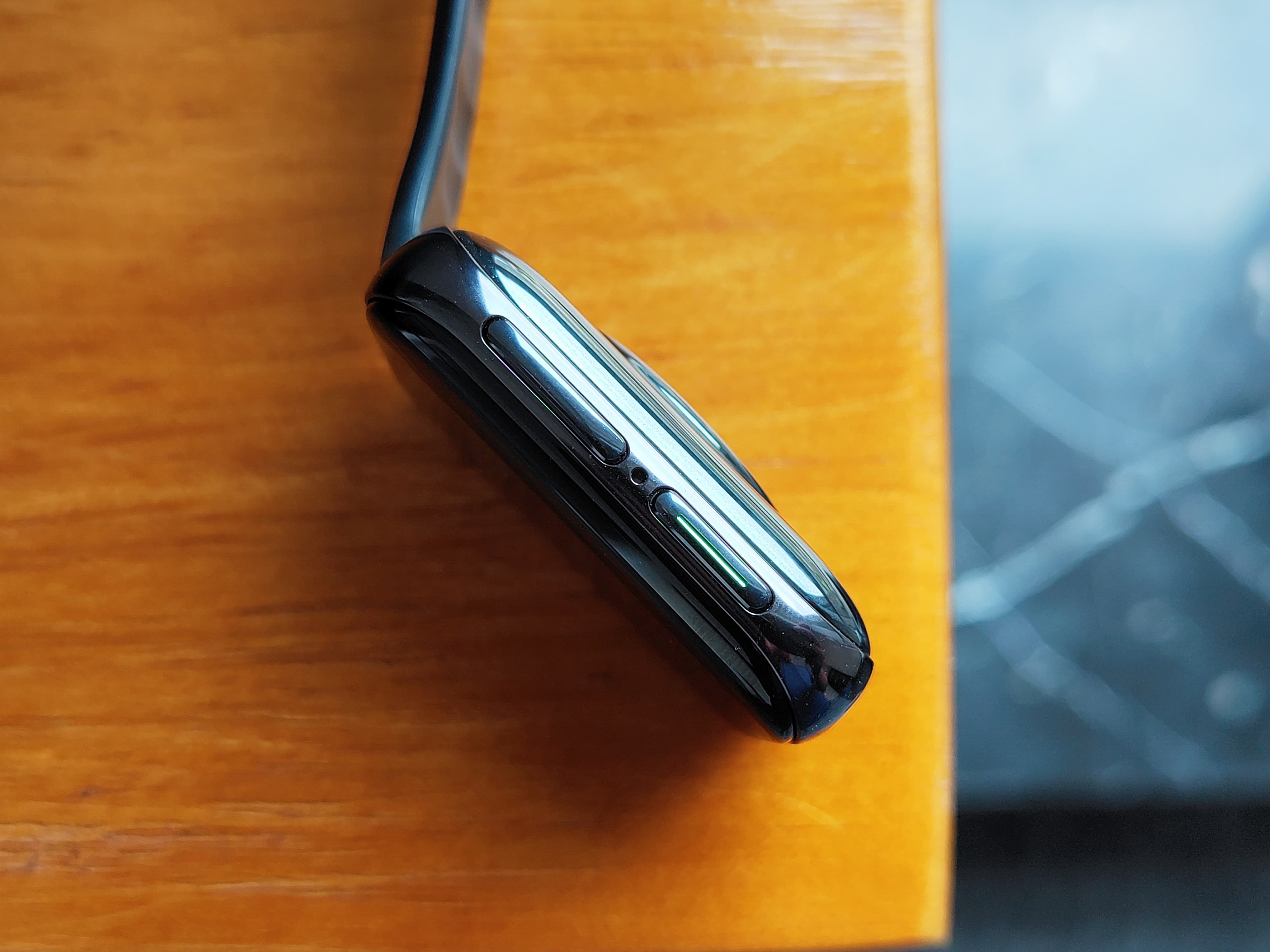 Configuration:
As the latest smart watch, OPPO is not ambiguous in terms of hardware. The Apollo 4s dual-chip design jointly developed by Qualcomm Snapdragon Wear 4100 + OPPO and Ambiq allows a small-sized watch to have powerful functions and battery life. .
The difference from the previous generation is that this time the two chips no longer work independently, but cooperate tacitly. Through the synergy of the two chips, in the full intelligent mode, the functions cover all aspects of life, and the battery life can still be up to the longest. 4 days.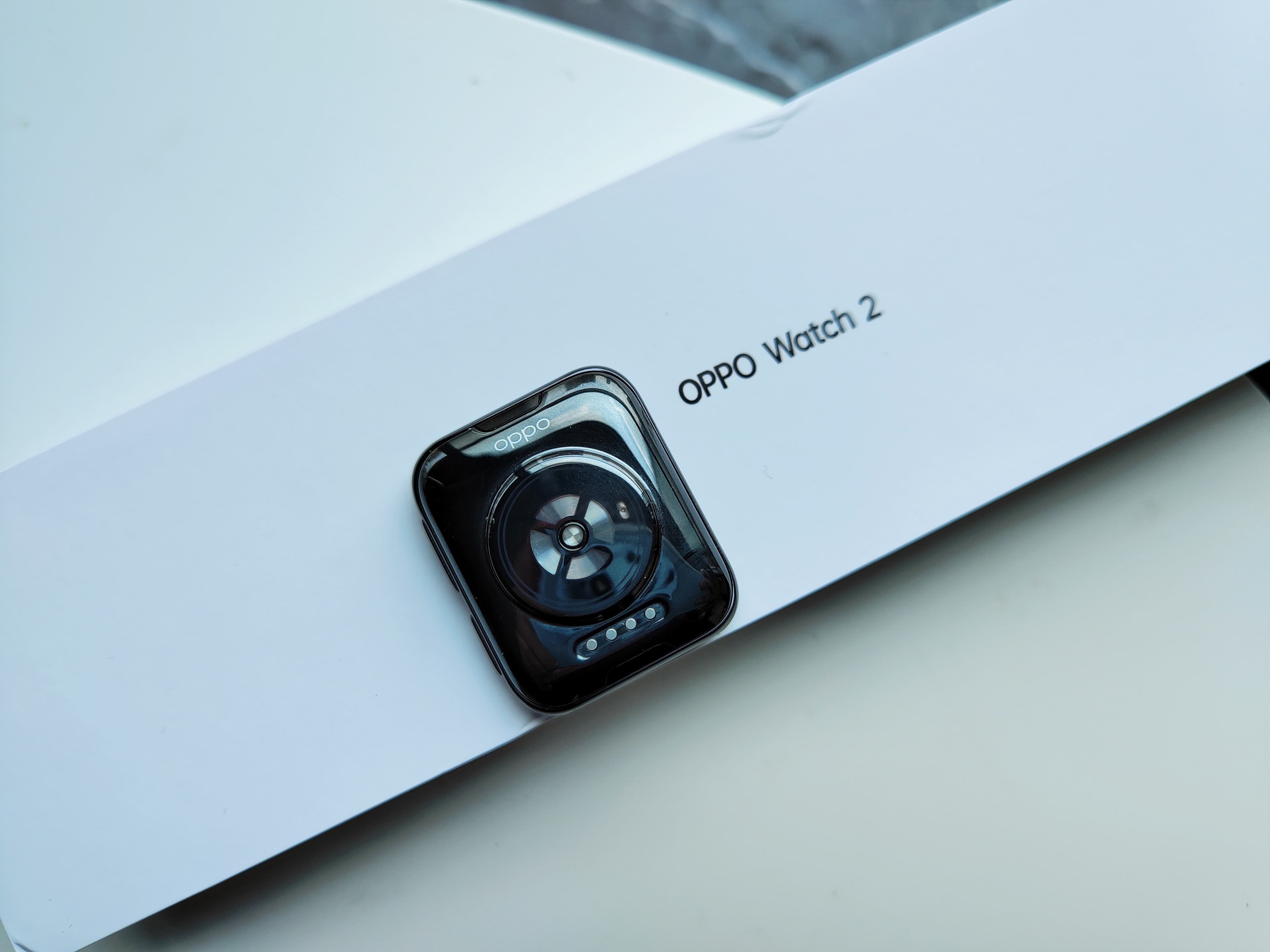 At this time, coupled with OPPO's UDDE dual-engine hybrid technology, it allows the two flagship chips to seamlessly switch between Android and RTOS systems according to different scenarios.
In low-power scenarios, the RTOS system is used when watching the time, receiving notifications, and viewing the health center; while scenarios such as smart applications evoke a high-performance Android system. These two chips will be switched intelligently according to the usage scenario, without the need for users to worry. Taking the car analogy, this technology is like treating Android and RTOS systems as different gears. On flat roads, it is more fuel efficient to use RTOS gear. When encountering complex terrain, switch to Android file to release powerful performance.
The most important thing is that this "car" is still an automatic gear, which can automatically switch seamlessly and intelligently adapt to different scenarios.
So seeing here, what is a real "smart watch", everyone should already have a benchmark in their hearts.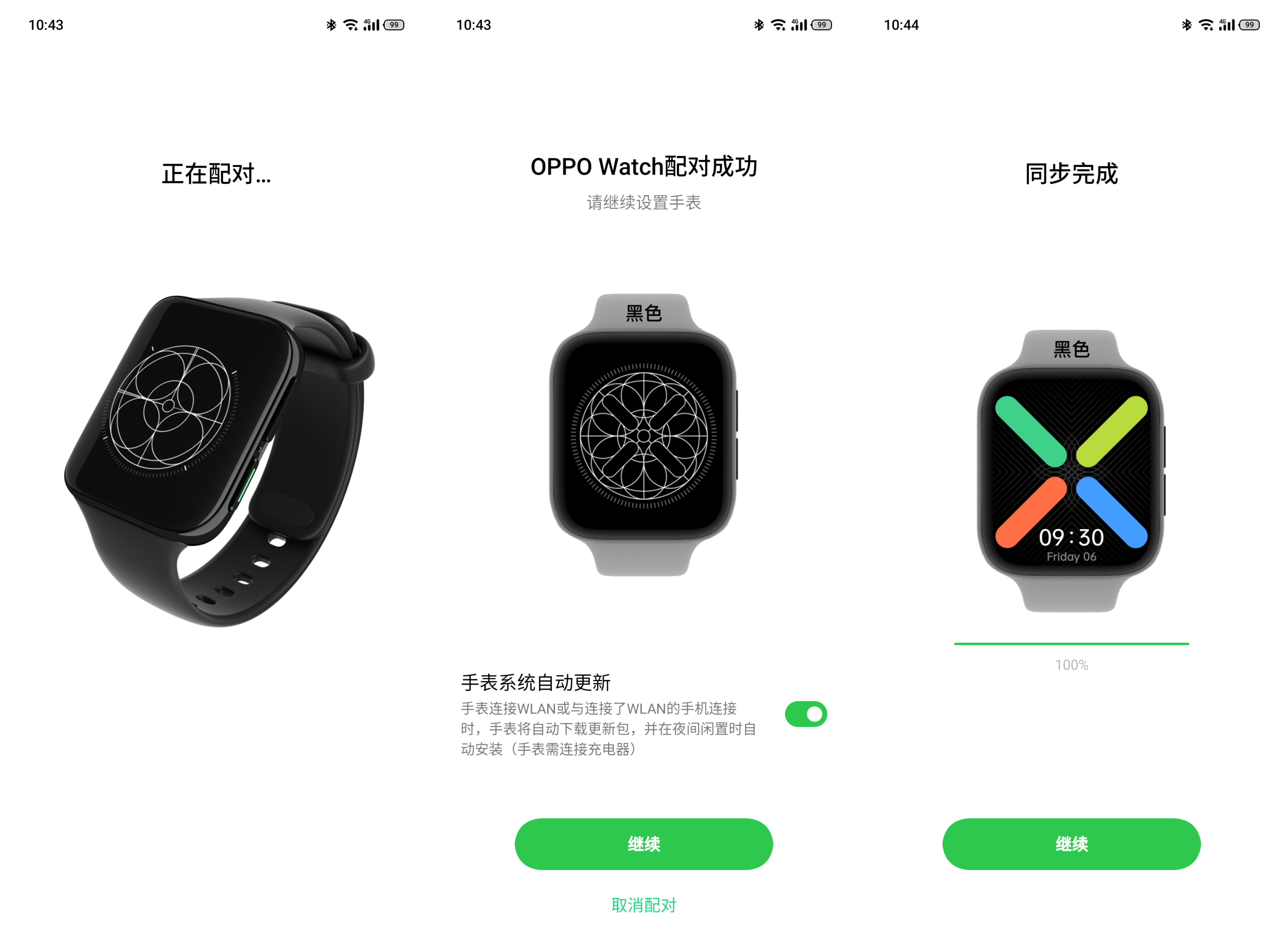 healthy:
Users who are familiar with OPPO smart watches may know that in the previous generation, it was already a product that supports eSIM independent numbers or one-number dual terminals, so this generation will naturally not be absent, and this is for the author. The most crucial difference between a large bracelet with a screen and a real smart hardware.
Because of the so-called smart devices, if everything needs to be connected to the network of the mobile phone to maintain its normal operation, then why do we need to add an extra hand to ourselves when it is enough to carry a mobile phone when going out? What about the "burden" on the
So whether there is an eSIM is a watershed for smart watches.
As OPPO's second-generation smartwatch product, eSIM is of course supported, and it is shared by China Unicom/China Telecom/China Mobile. After you get it, you can activate it according to the prompts in the corresponding app. The author's number comes from For China Unicom, a monthly service fee of 10 yuan is required.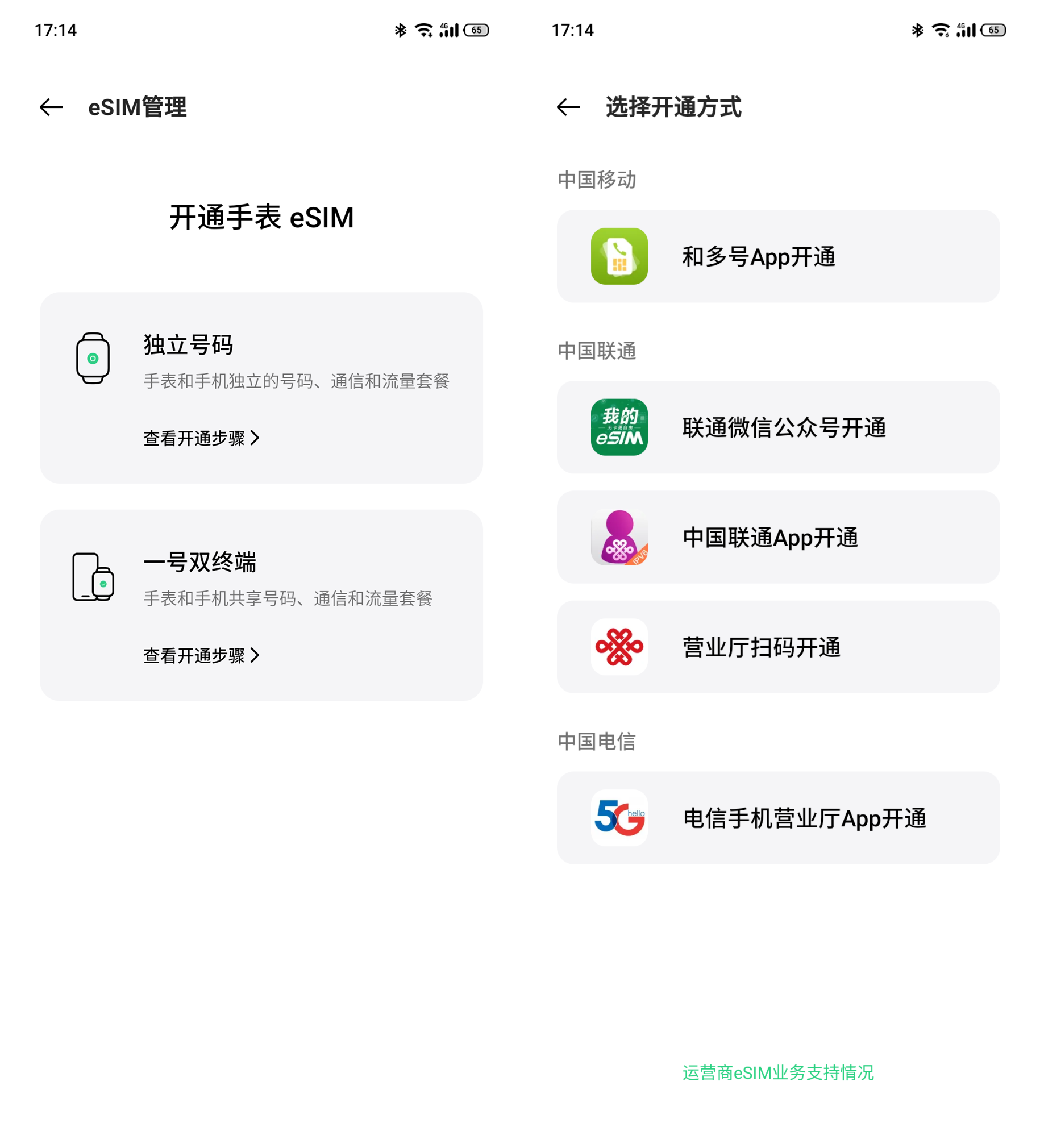 After the eSIM is activated, this smart watch can be considered to have its own 100% complete form. OPPO Watch 2 46mm supports users' health management and detection in terms of functions, including daily activities, heart rate, sleep, blood oxygen (including snoring, continuous blood oxygen analysis), stress, relaxation, etc. Among them, heart rate and sleep are all essential functions of smart watches, and some smart bracelets also have them. The focus is on the newly added blood oxygen in the past two years. monitor.
Blood oxygen saturation is an important value that reflects a variety of diseases. The OPPO Watch 2 series is equipped with a 6-core optical heart rate sensor this time, which can achieve continuous blood oxygen monitoring per second, measure blood oxygen concentration anytime, anywhere, and automatically turn on during sleep. , guard 20,000 times a night.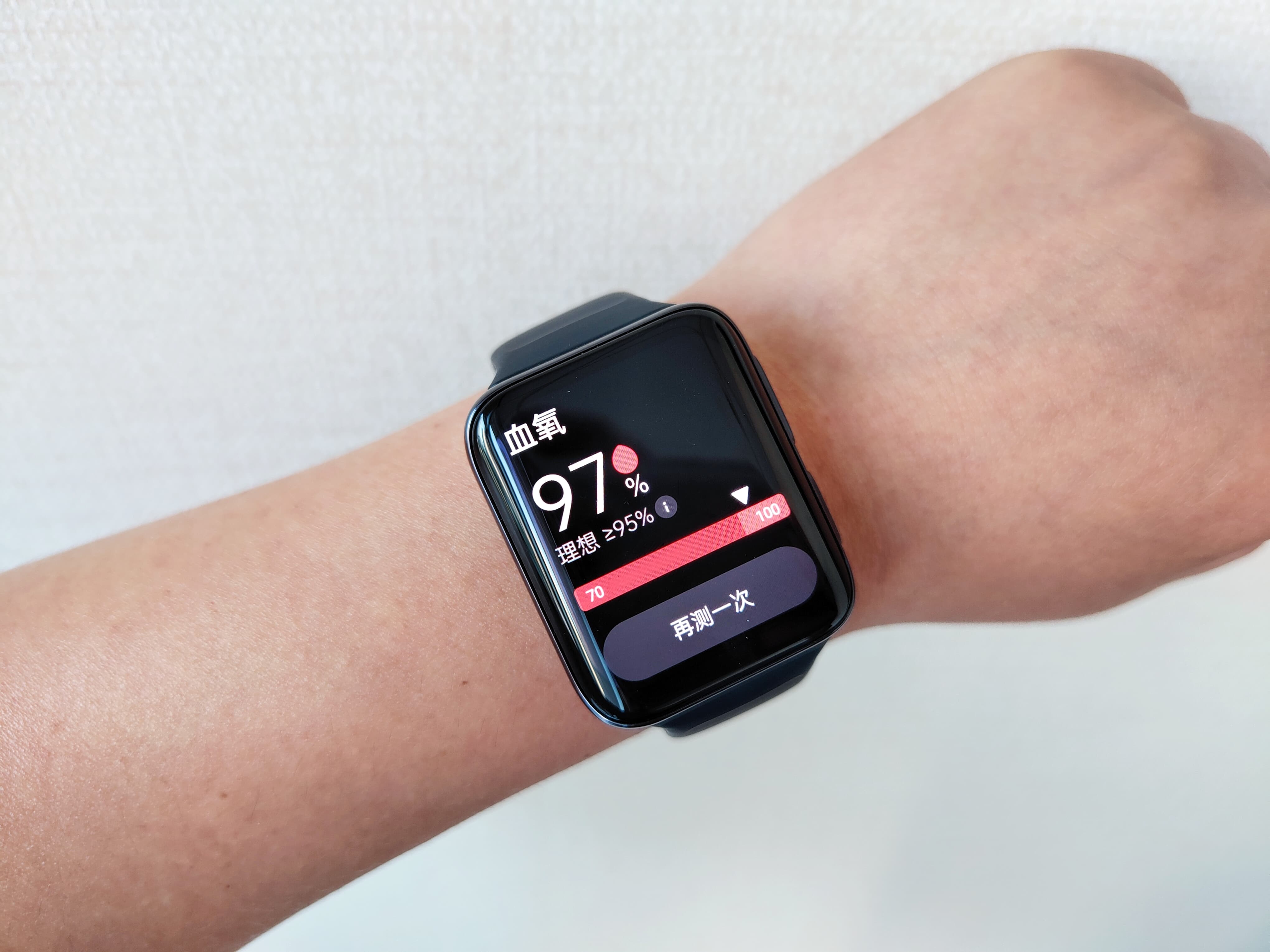 In addition to the important upgrade of blood oxygen, routine professional sleep monitoring + snoring risk, 24-hour heart rate monitoring, family care mode, fall monitoring and other functions are all available, and if you think this is not enough, it The built-in new personal health center also supports access to third-party health equipment such as blood glucose meters, treadmills, body fat scales, and blood pressure monitors.
More meticulously, the OPPO Watch 2 series also intimately provides women users with practical functions such as menstrual reminders, drinking water reminders, sedentary reminders, etc., with extreme thoughtfulness in all aspects.
sports:
As a function of smart wearable devices, the function of sports can only be more detailed and accurate when it is advanced to smart watches. The OPPO Watch 2 series has built-in professional motion sensors, including three-axis acceleration sensors, gyroscopes, Professional hardware including geomagnetic, air pressure sensor, optical heart rate sensor, etc., to achieve more comprehensive motion monitoring; support GPS+Glonass+Beidou+Galileo positioning system, support L1 GNSS single-mode (AGPS assisted positioning), more accurate motion track recording; built-in Bluetooth 5.0, the effective connection distance is up to 50 meters, ensuring effective monitoring of sports data at all times.
In terms of sports, the OPPO Watch 2 series can automatically monitor and identify 6 sports modes such as outdoor/indoor running, outdoor/indoor walking, cycling, swimming, elliptical machine, rowing machine, etc., and prompt users to make records. In addition, users can also Actively monitor and record more than 100 sports such as badminton, tennis, yoga, dance, skiing, etc. You can also customize and add data to be recorded, such as heart rate, pace, distance during exercise, and record exercise data to meet everyone's different sports. preference.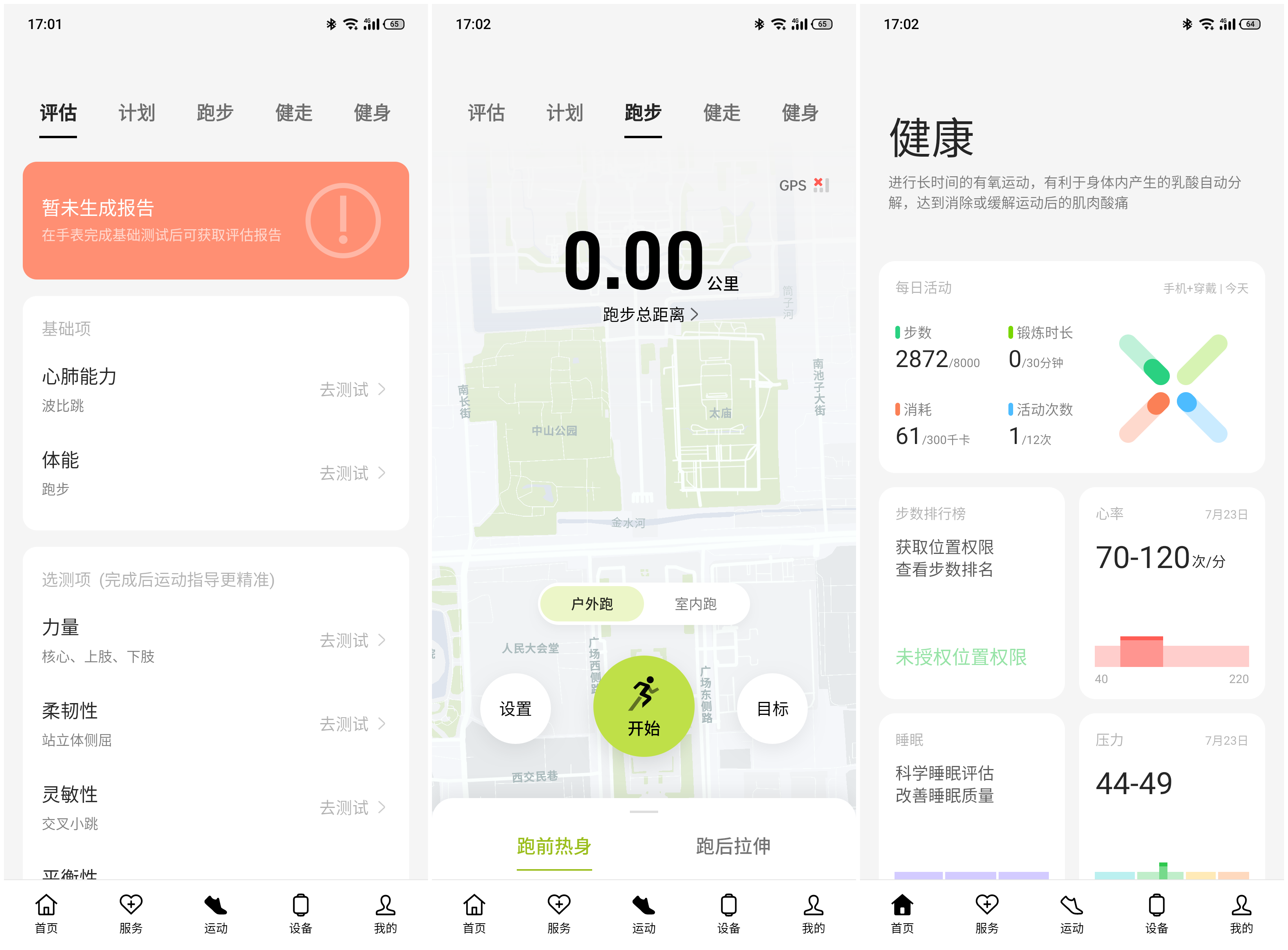 For example, a girl in the author's circle of friends posted a screenshot of a smart watch record after swimming, which showed that her swimming style was butterfly, and also recorded in detail the energy consumption and other data of her swimming time, but she posted The copy of the circle of friends is: how is this done, I didn't open this.
In fact, what she doesn't know is that the current smart watch can already be done without you needing to adjust it, but it will take the initiative to care about your state. This is the kind of simple and handy sense of technology that smart life brings to people.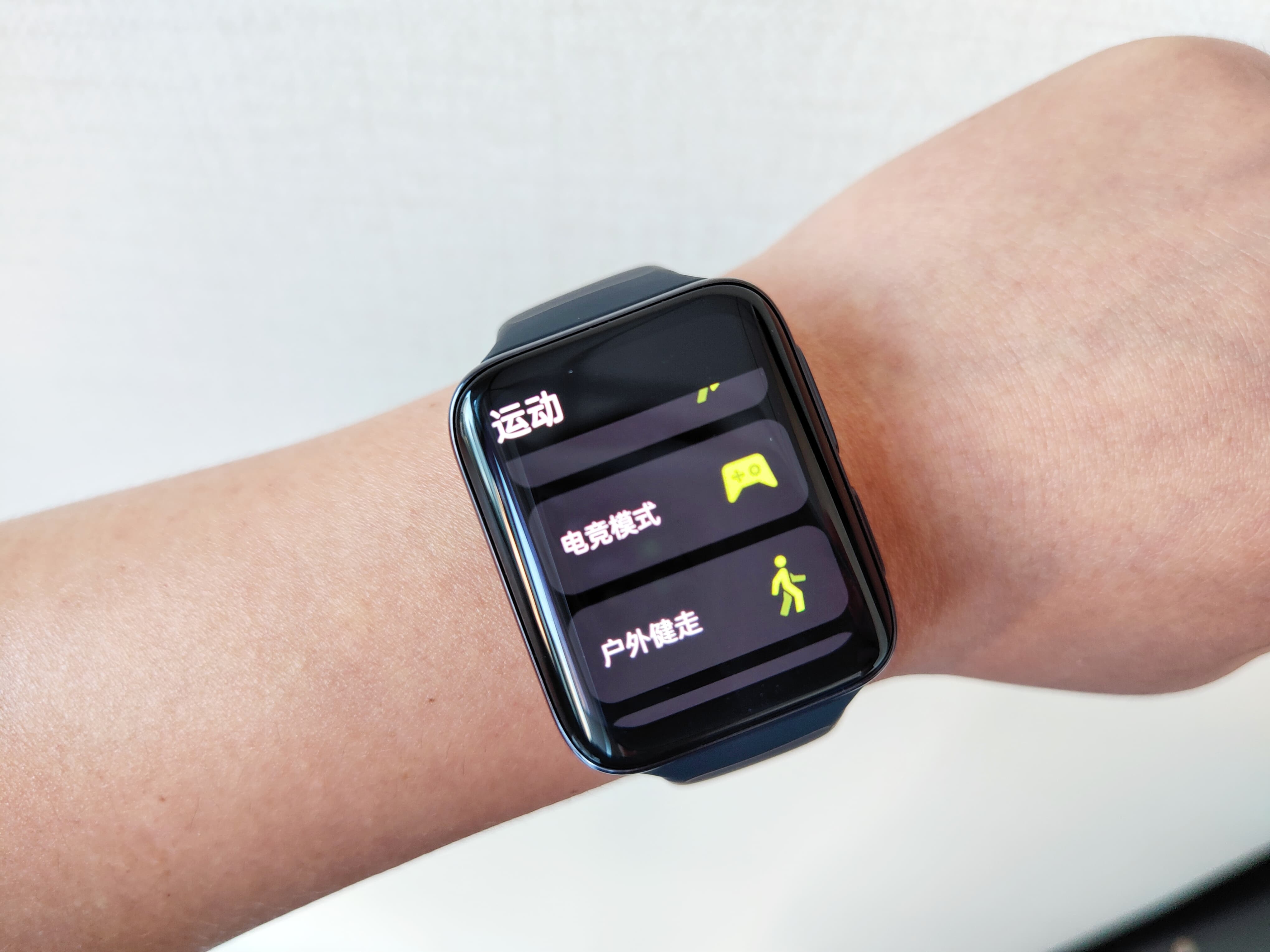 other:
In terms of system, the OPPO Watch 2 series is equipped with the new ColorOS Watch 2.0, which is smoother to use, and the application launch and click are smoother. At the same time, as an operating system, the biggest impression of ColorOS Watch 2.0 to the author is that there is no learning cost, because you Every swipe on the dial is very logical, and swiping in different directions corresponds to the page it should call out, reducing the pressure to zero burden for new users who have never touched a smart watch at all.
At the same time, the OPPO Watch 2 series has further added application adaptation this time, supporting 50+ popular applications such as Baidu Maps, Alipay, Tencent Translator, Tencent News, Express 100, NetEase Cloud/QQ Music/Himalaya, Pocket Bus, etc. What do you need? The function is to download any function and it is OK, just like a smart phone.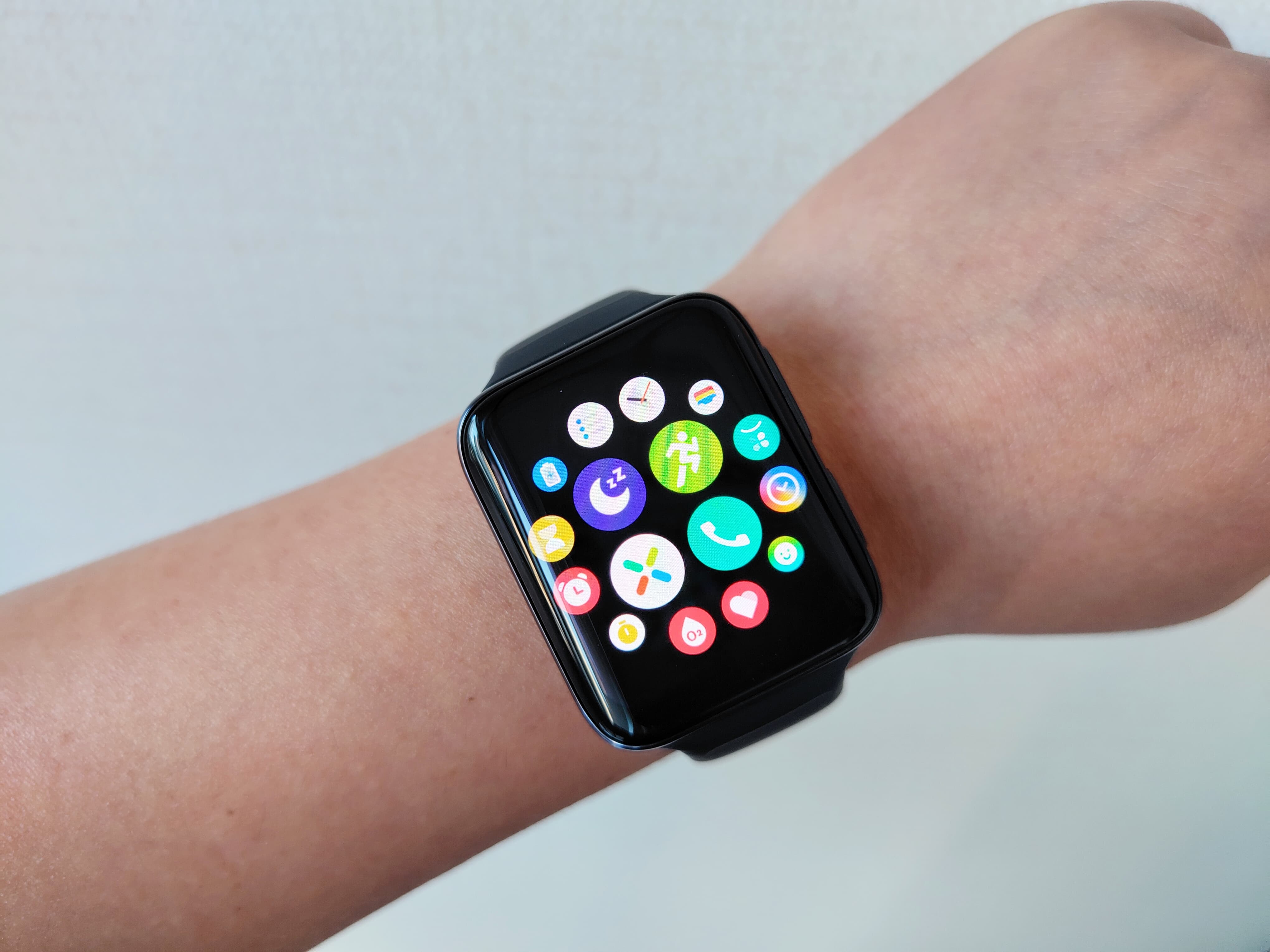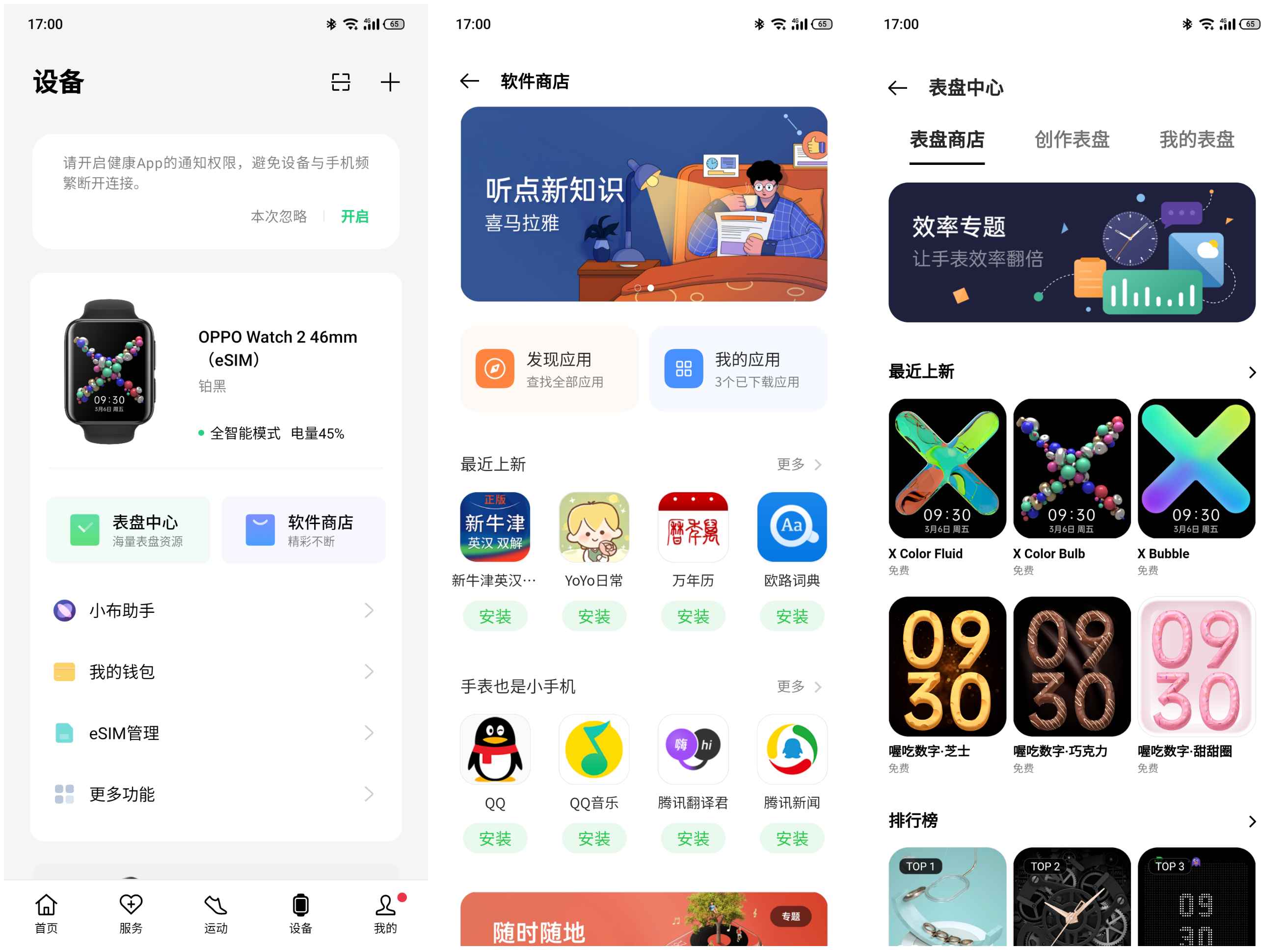 Finally, there is fast charging. The battery life is an important selling point of this OPPO Watch 2 series, so the corresponding charging should be accelerated.
OPPO has its own VOOC flash charge, and also popularized the 65W flash charge to the thousand yuan phone, which can be said to be good for the industry, and also reflects the strength of OPPO's major manufacturers, so this time, VOOC flash charge also came to mobile phones.
The battery capacity of OPPO Watch 2 46mm is 510mAh. It takes about 10 minutes to fast charge with the original charging base, which is enough for 24 hours. If it is fully charged from 0-100, it takes 60 minutes. Then you can continue to escort your health.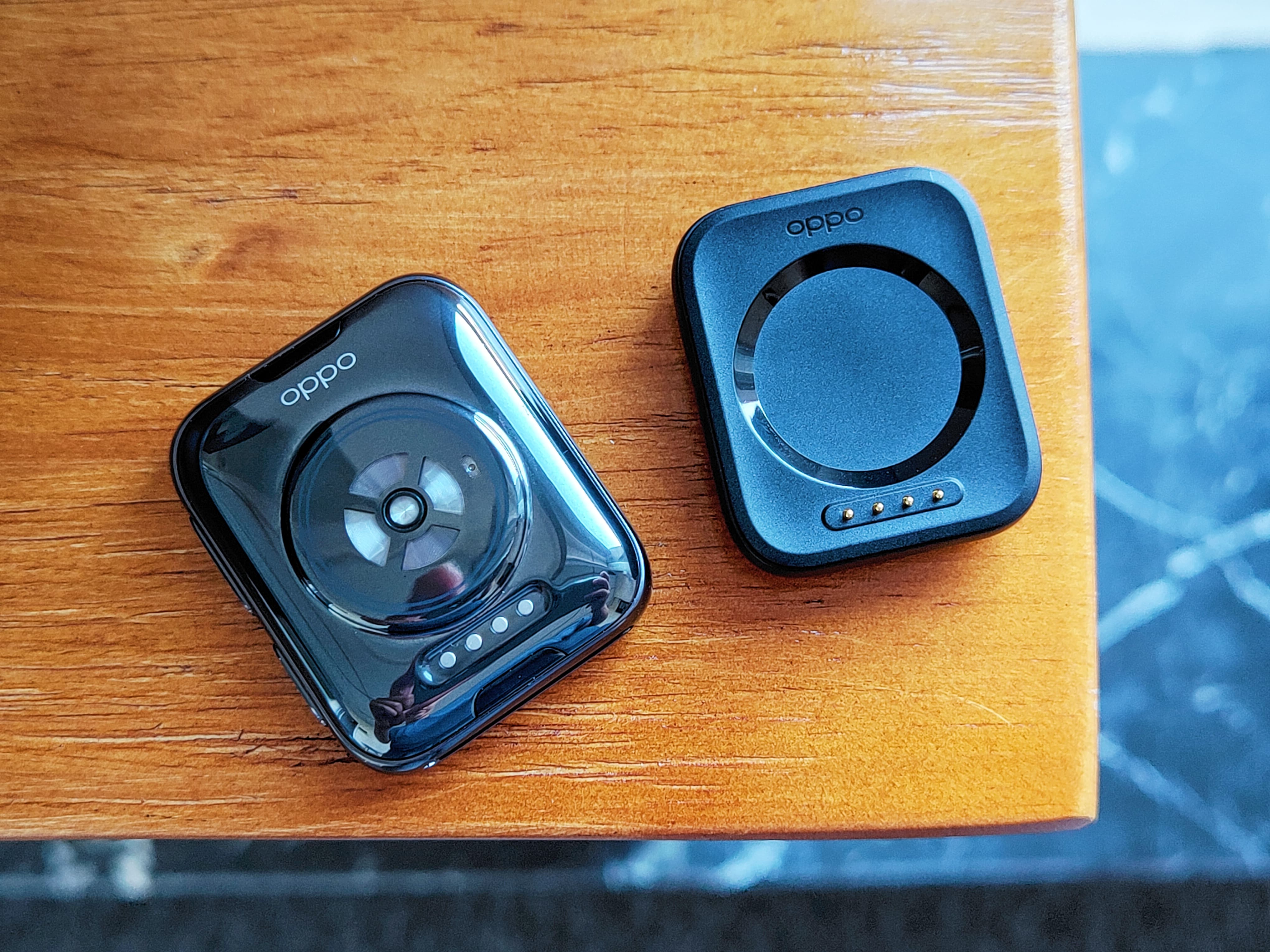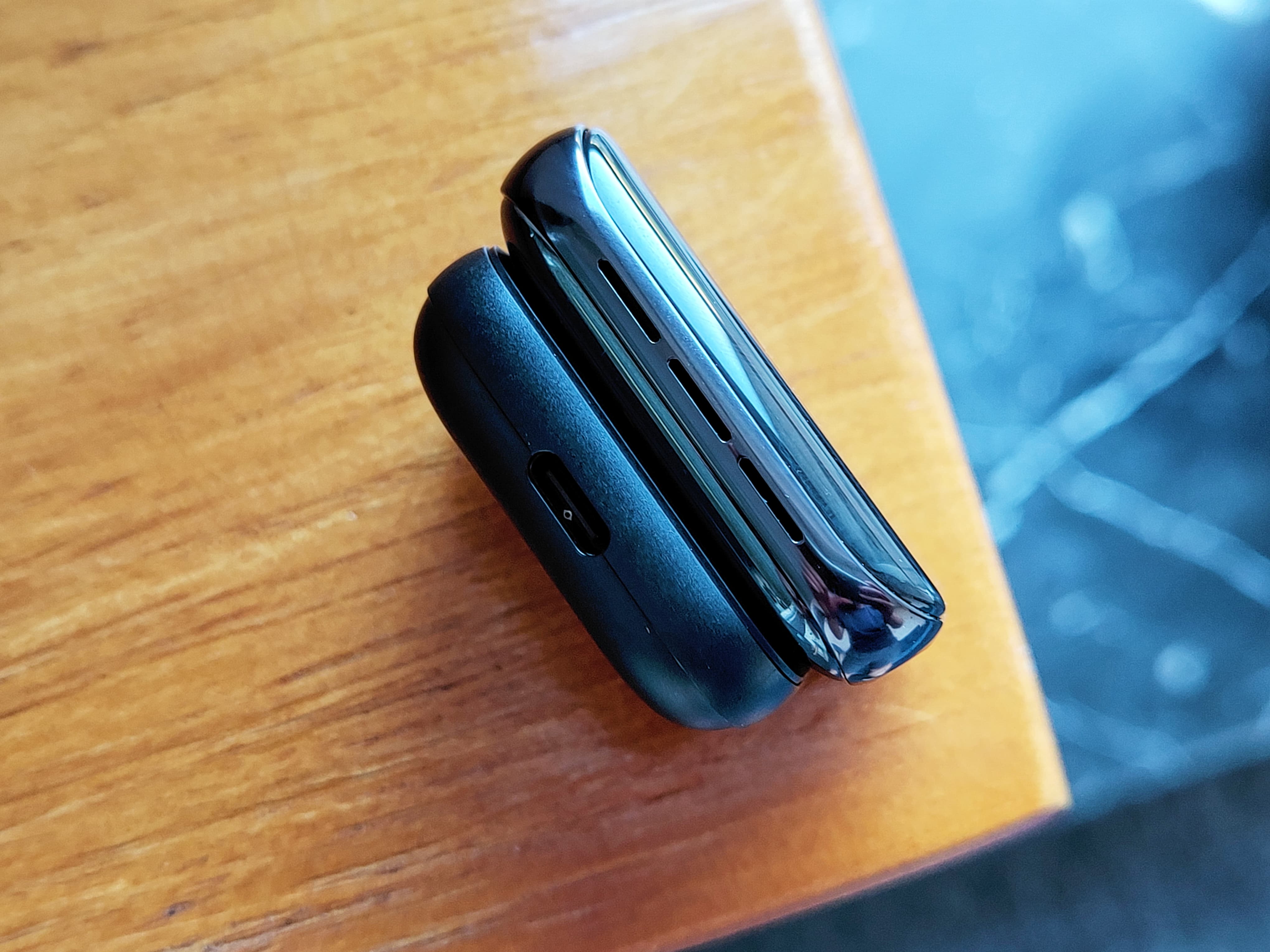 Summarize:
Previously, the author's mentality about smart watches was an accessory of mobile phones, but after I actually used the OPPO Watch 2 series of smart watches that can enable eSIM to be completely independent, this idea was easily changed.
For example, when you are running, you no longer have to think about how to hold your mobile phone, but just wear a watch. If you want to buy a bottle of water to replenish your energy on the way back, you can also use the watch on your wrist to solve the problem. The most important thing is, It can also play music as BGM to help you adjust the rhythm while you are running, which are things that used to be very troublesome when carrying a mobile phone.
The emergence of smart watches can be said to be the second form of mobile phones, but its focus is all on the physical and mental health of the wearer. The small screen will not take away most of your time, and you will also after using it for a long time. Pay more attention to your own physical state, this is the important meaning of its existence.