one,Foreword and picture appreciation
From the perspective of product update speed, it is not a problem for Wi-Fi 6 to be popularized this year. Various terminals have been launched one after another, such as mobile phones and routers. The rapidity of popularization is surprising.
What is Wi-Fi 6? Wi-Fi 6 (802.11ax) is a new generation of Wi-Fi standards. Compared with the previous generation of Wi-Fi 5 (802.11ac), the transmission rate, signal coverage and data delay have been greatly improved. We carried out these tests. talk.
In addition to old router manufacturers such as TP-Link and Mercury, some mobile phone manufacturers have also released their own Wi-Fi 6 routers, such as Huawei, Honor, Xiaomi, etc. The price is generally above 200 yuan.
Now that Xiaomi has done it, Redmi will naturally follow. We got Redmi's first Wi-Fi 6 router AX5 this time, and let's take a look at its specific performance.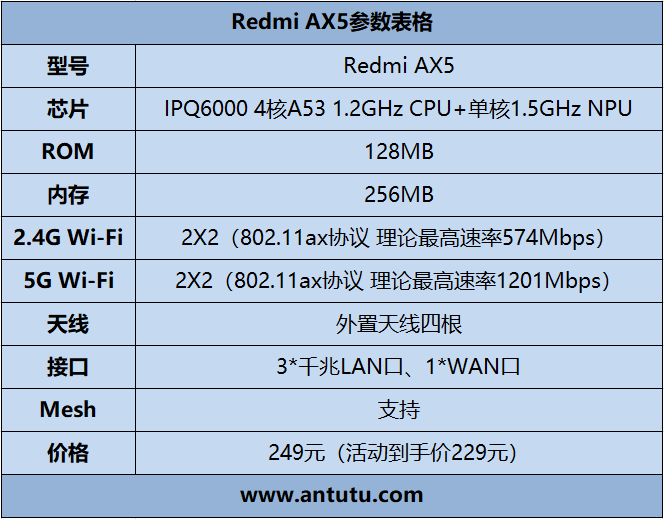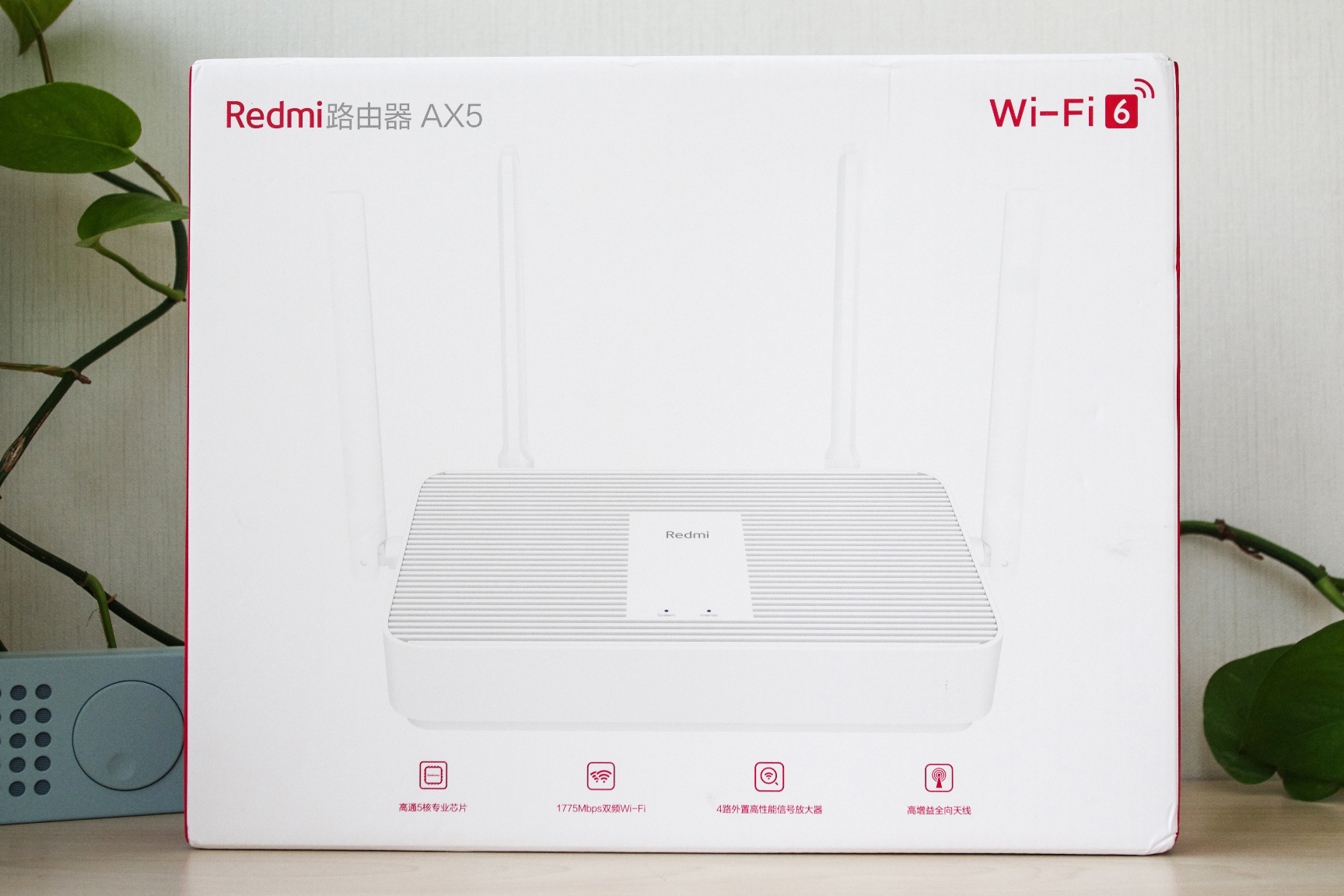 router wrapper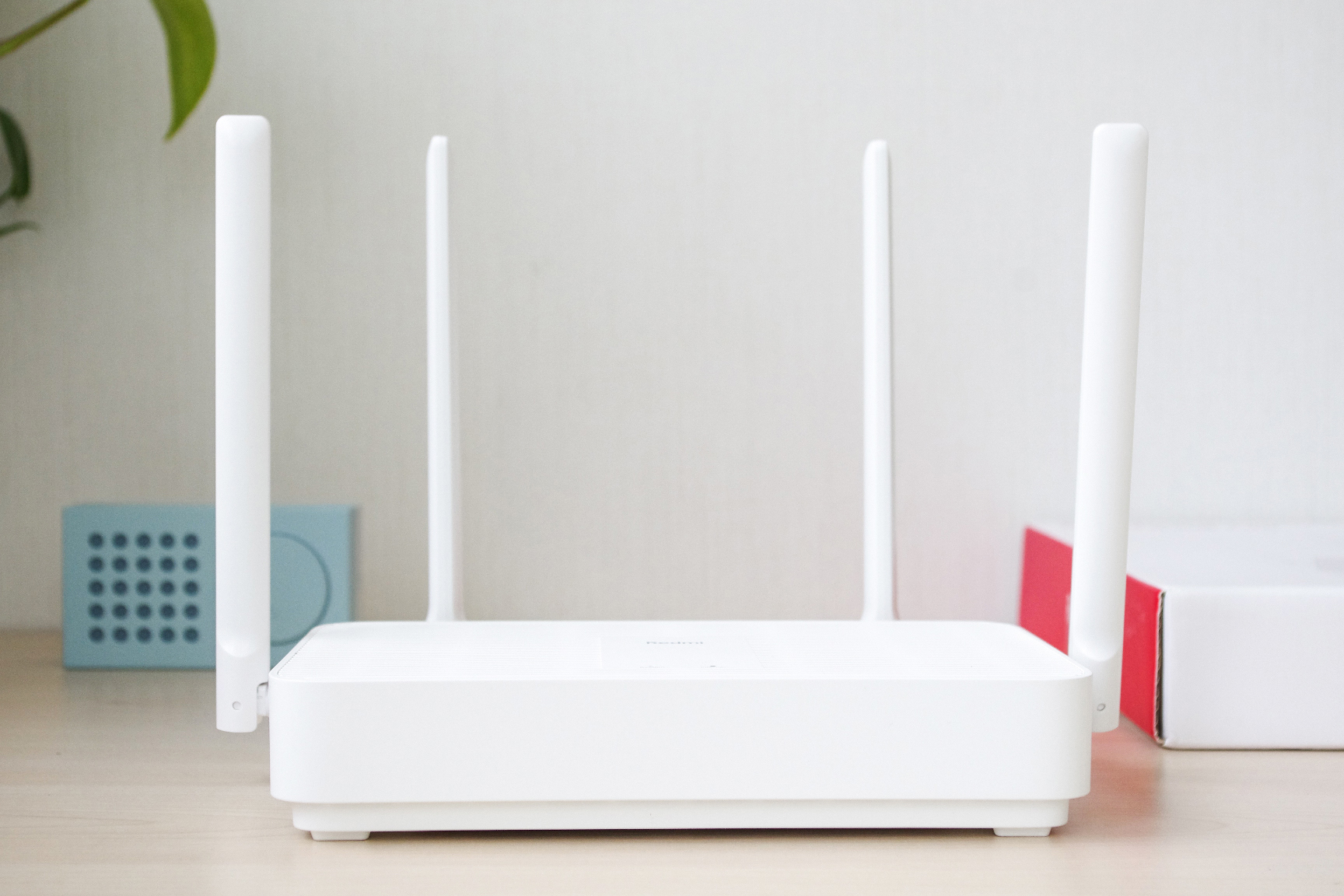 Redmi AX5 router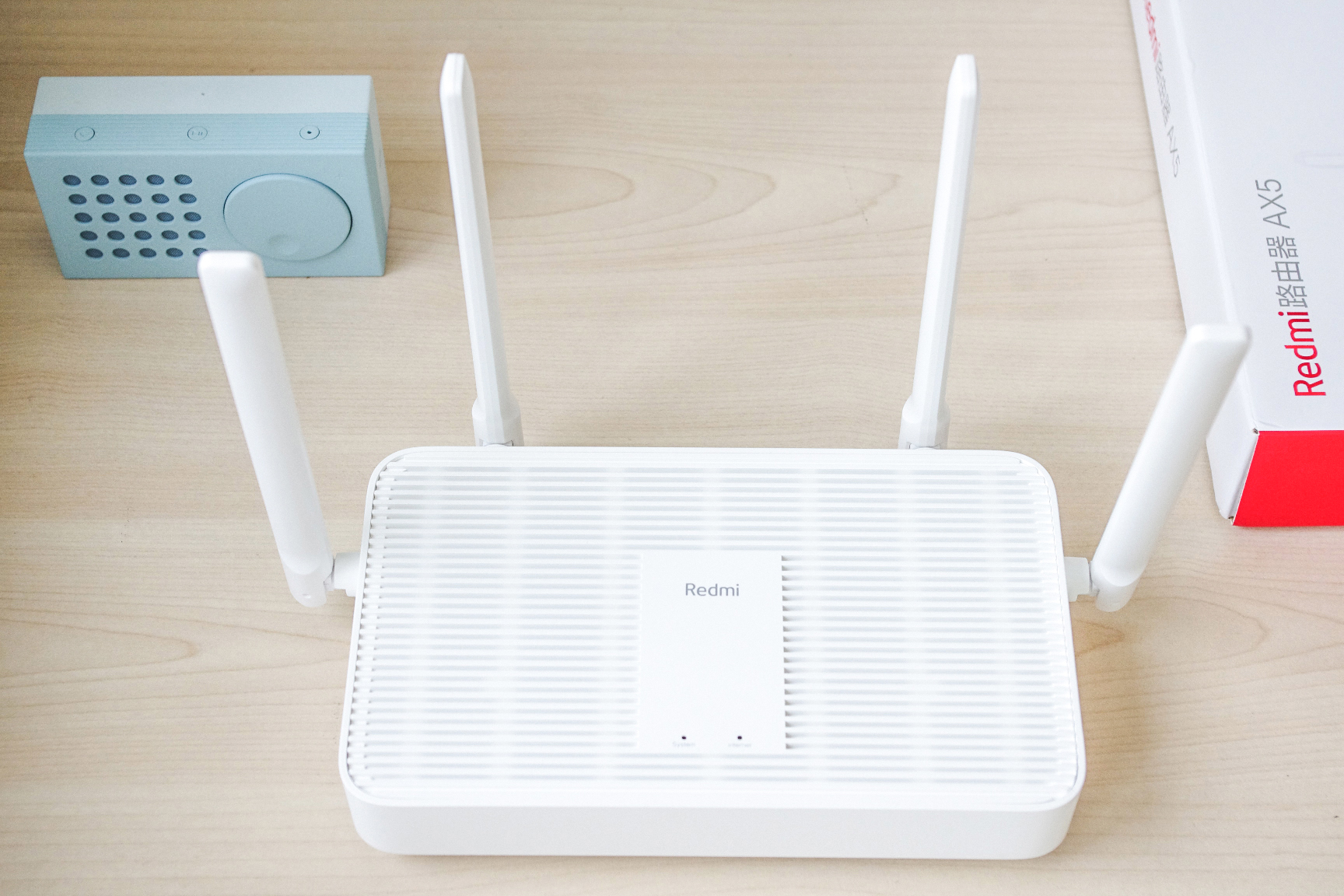 Redmi AX5 router, with a lot of cooling holes, four antennas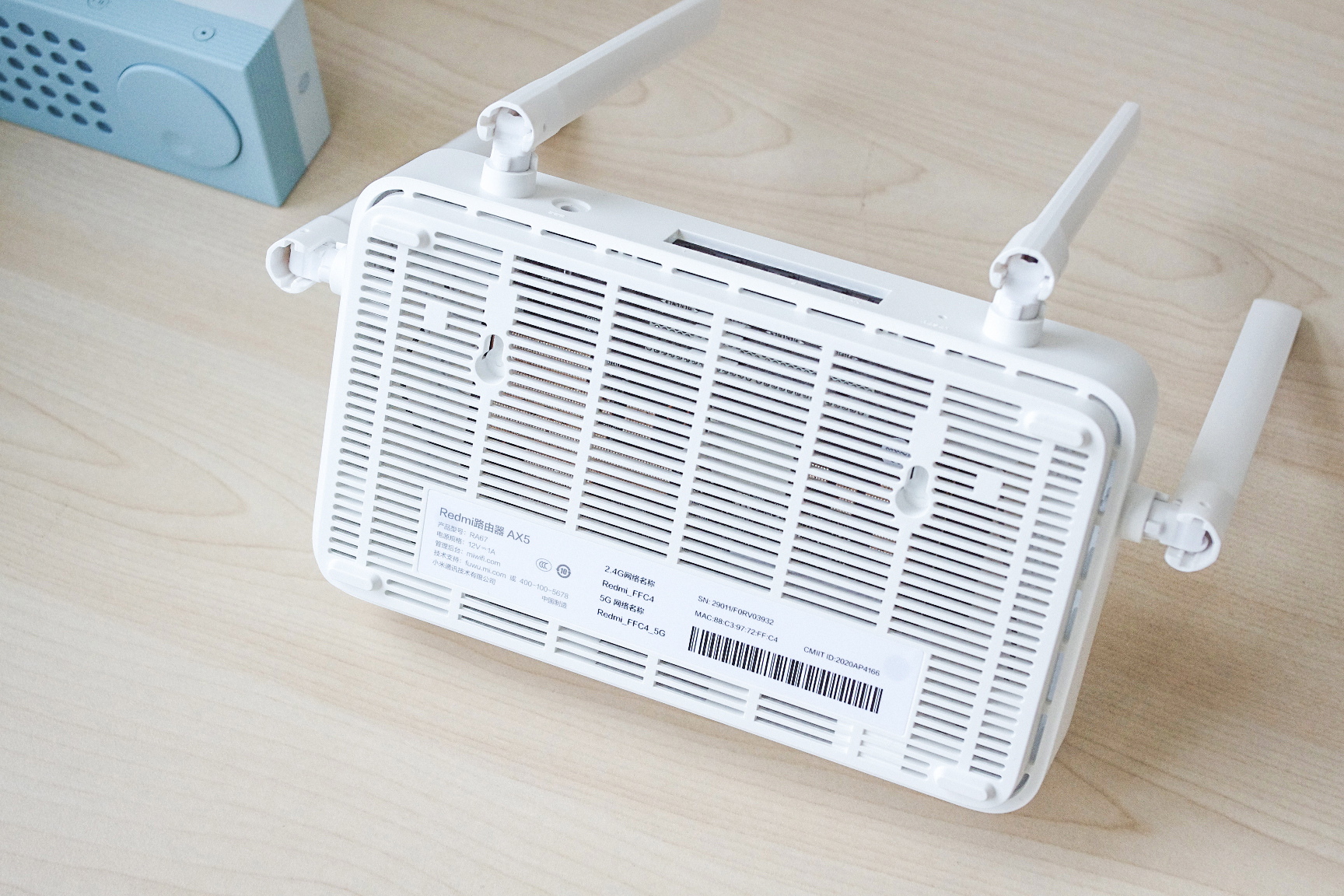 There are also a lot of cooling holes on the back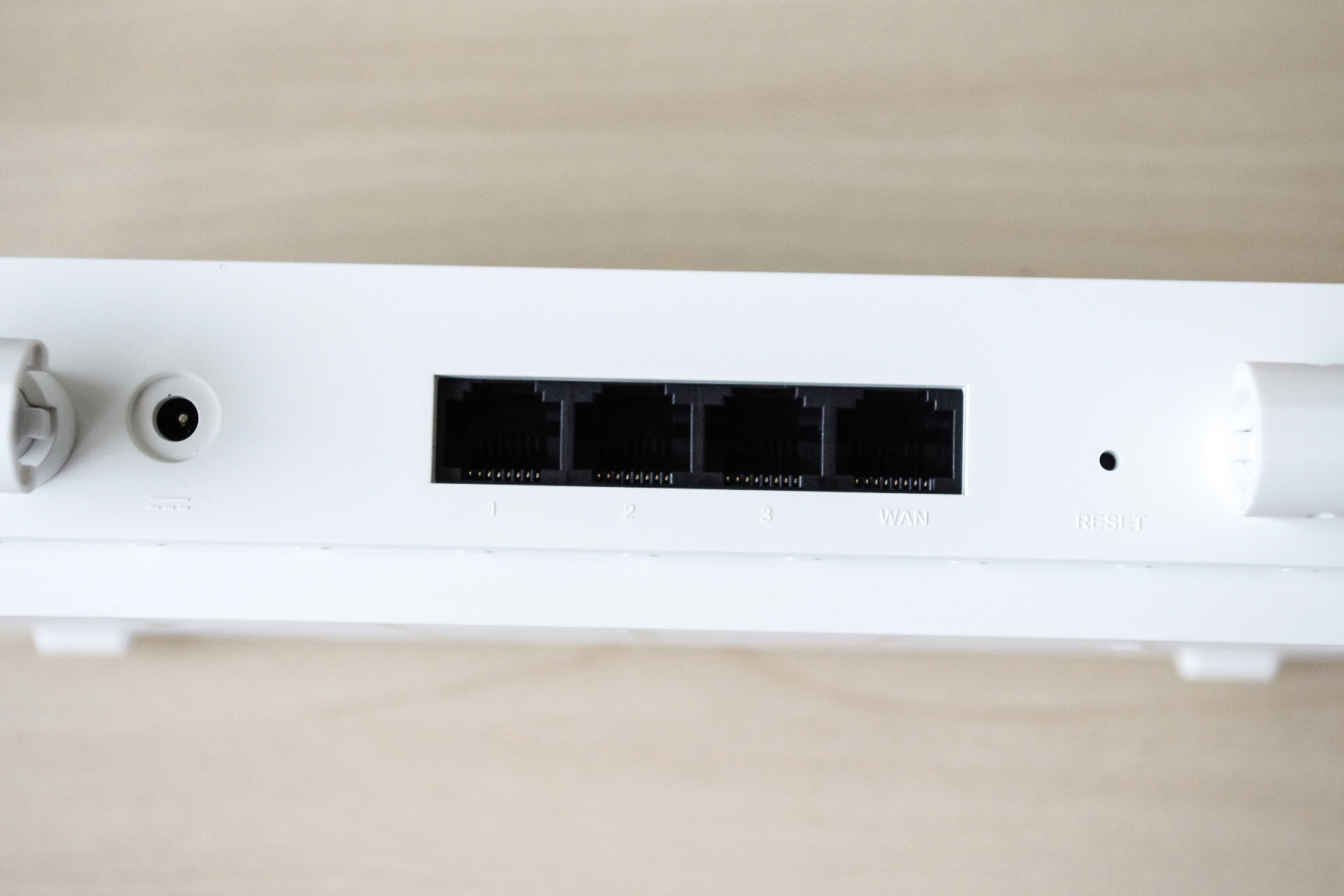 There are four ports on the rear of the router, which are the power port, 3* Gigabit LAN port, WAN port, and RESER button.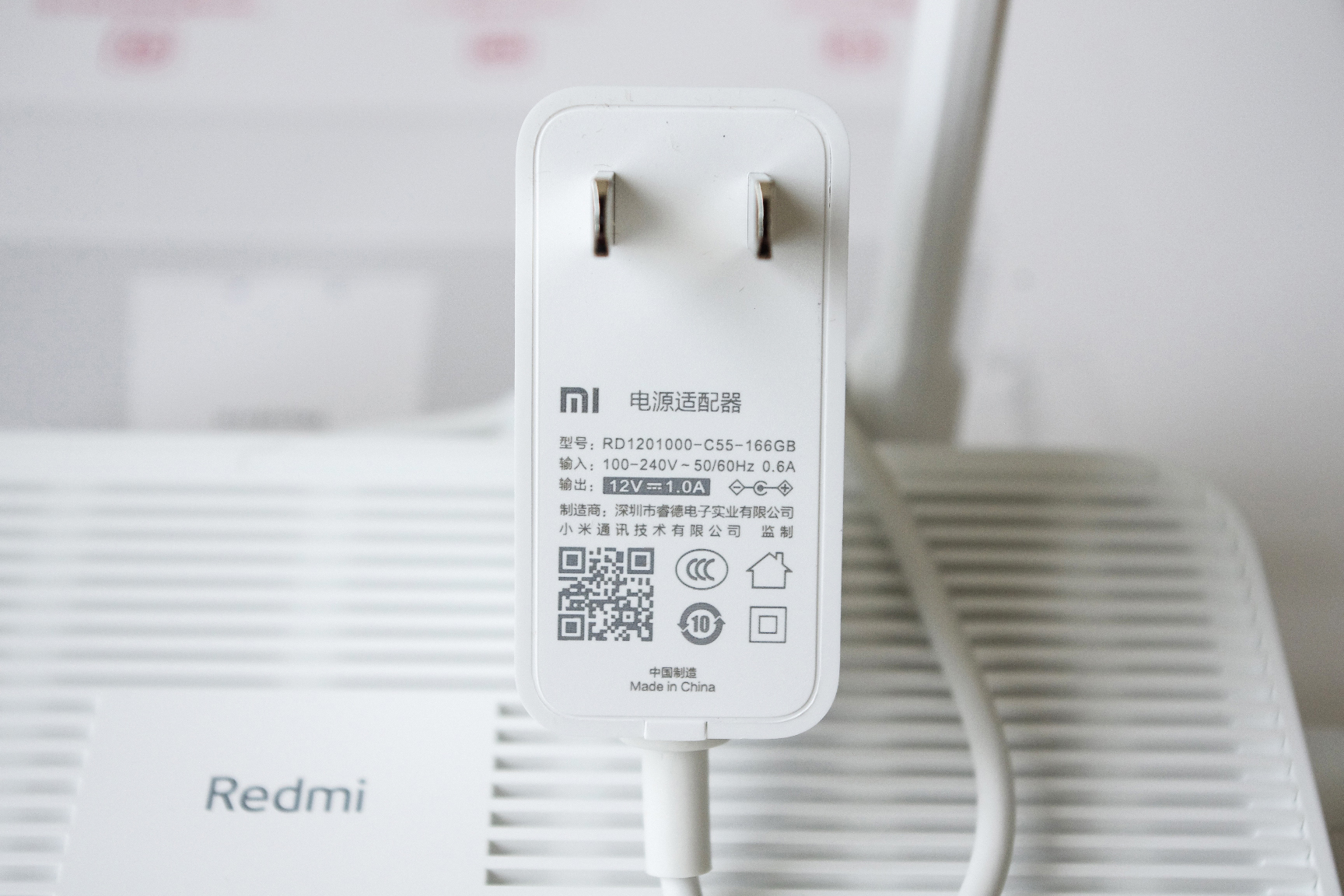 The Redmi AX5 power adapter has a power of 12V/1.0A. In addition, the package does not come with a network cable. Users can choose by themselves. It is recommended to connect a Category 6 or Category 6 super network cable.
two,connect
Like most routers, the Redmi AX5 can access the address or bind the APP to use, and download the Xiaomi Wi-Fi APP to connect.
1、connect router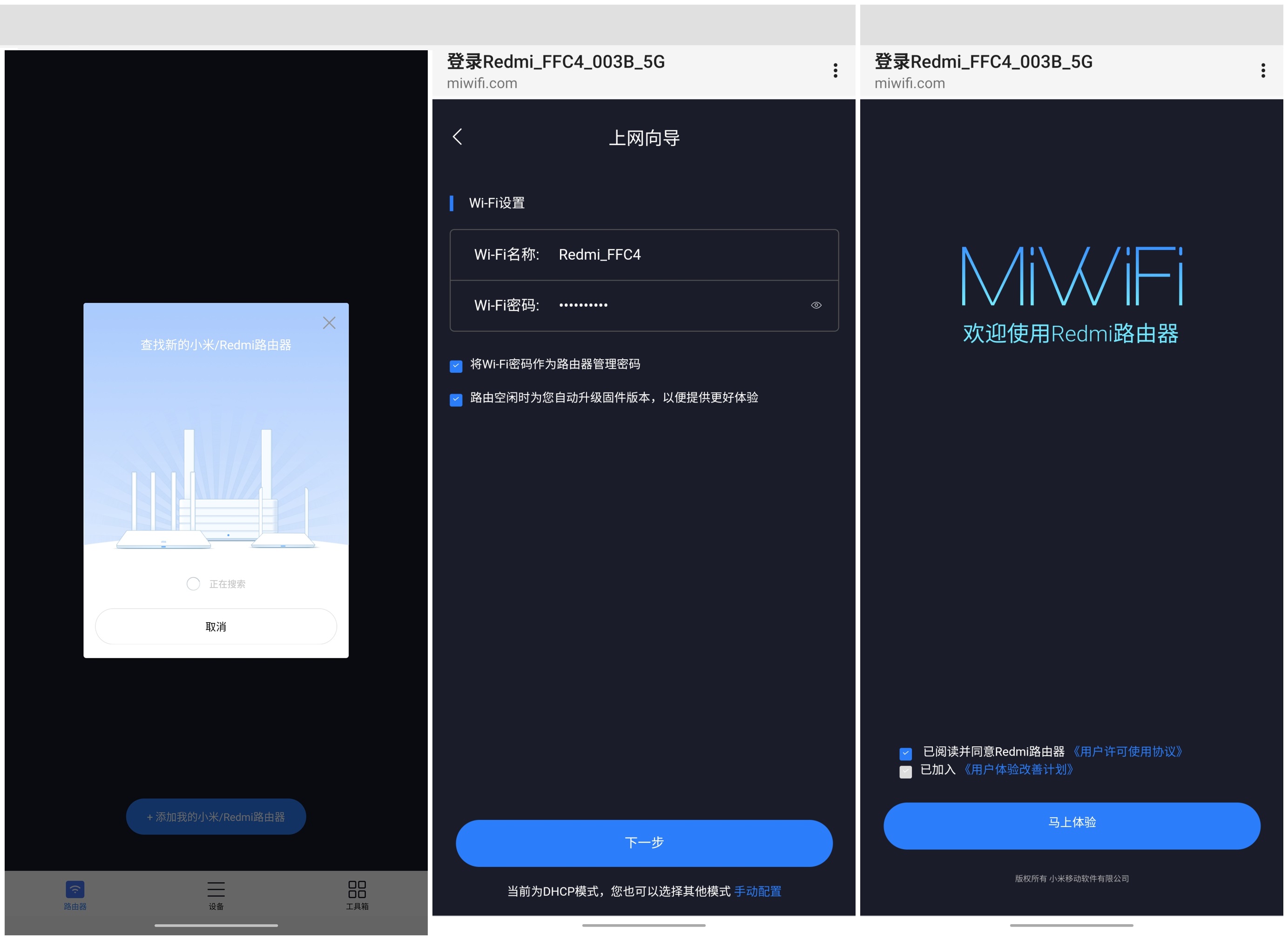 Taking the Xiaomi WiFi APP as an example, the connection can be completed in three steps, and the operation is simple and not complicated.
2. APP main interface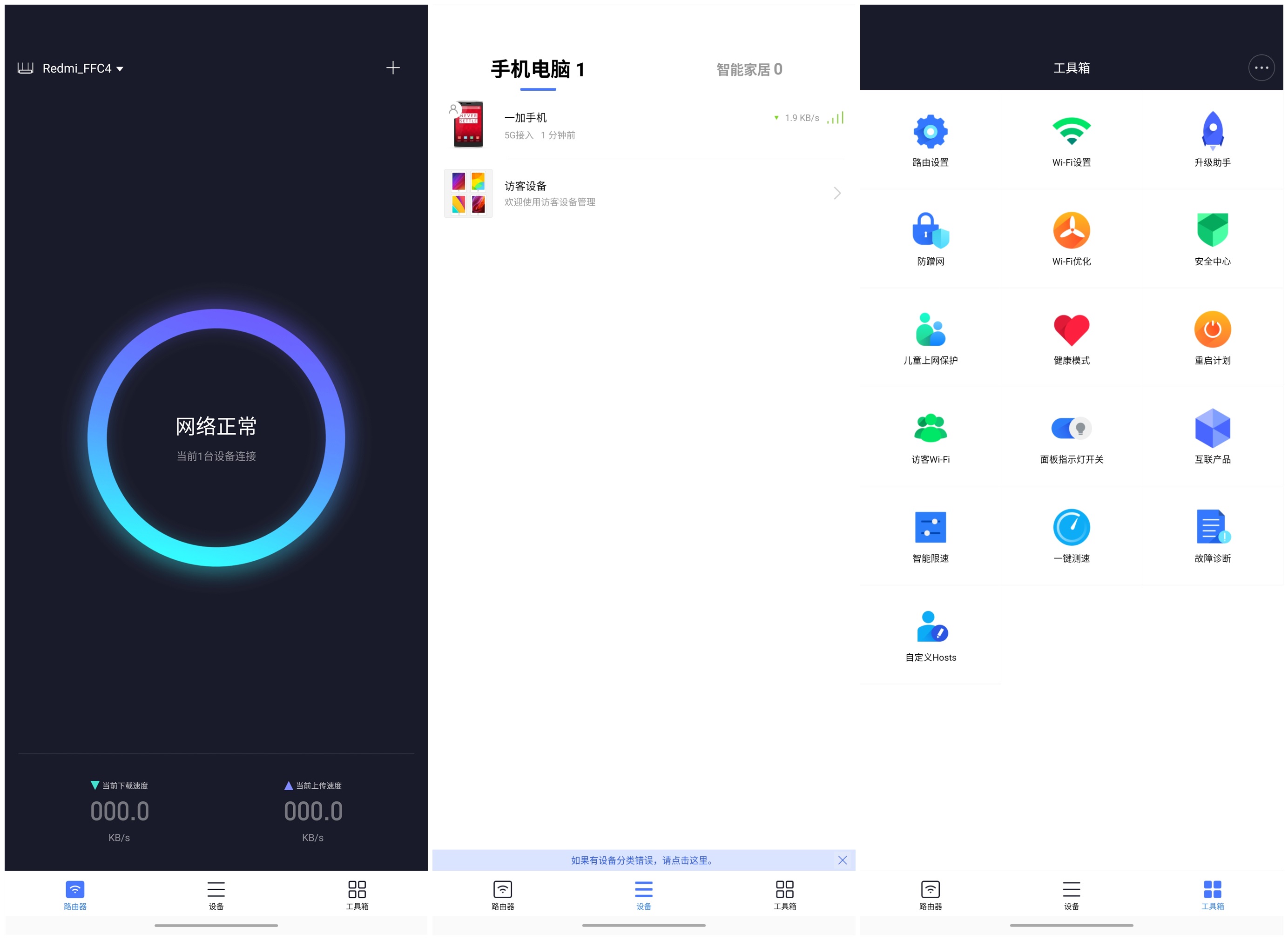 After the connection is successful, the interface is divided into three parts: the main interface, the connected device, and the toolbox. The main interface displays the current network status, including the upload and download speed; the connected device can view which devices are connected to the router, and can manually limit the speed or close it. The internet.
3. Toolbox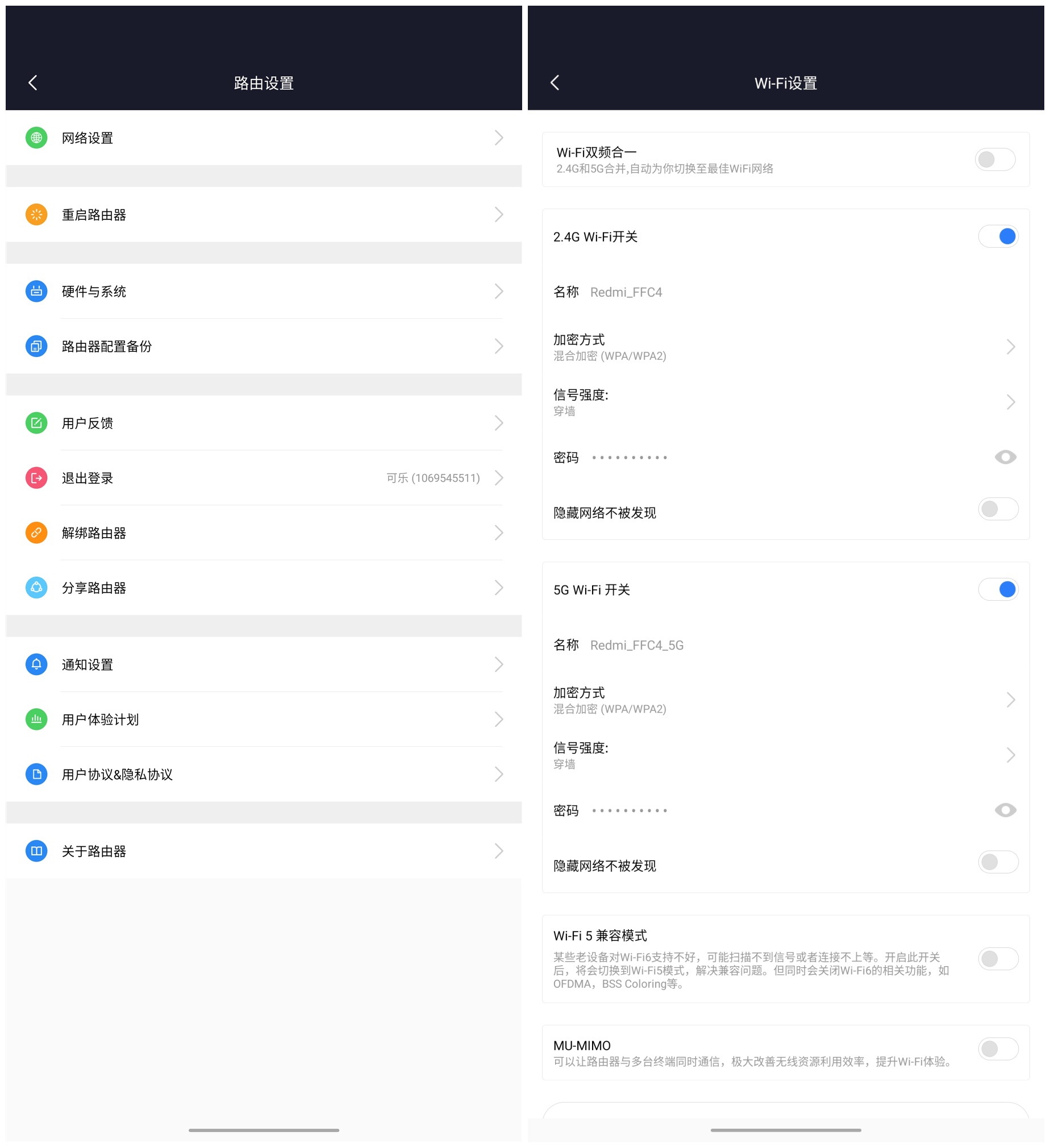 The toolbox has functions such as routing/Wi-Fi settings, anti-rubbing network, Wi-Fi optimization, children's Internet protection, and guest Wi-Fi, which are easier to operate than web pages.
three,How strong is Wi-Fi 6?
Before starting the test, let's take a look at the parameters of the Redmi AX5 router and what is the improvement of Wi-Fi 6?
The Redmi AX5 is equipped with a Qualcomm 5-core CPU and the same processor as the AX1800, which is Qualcomm IPQ6000, but Qualcomm has not given its detailed parameters. The data given by Xiaomi is the latest 14nm process, 4-core 64-bit A53 1.2GHz CPU + single-core 1.5GHz NPU.
The memory is 256MB, the theoretical connection rate of Wi-Fi can reach 1775Mbps (dual-band concurrent), the data transmission rate can reach 1024QAM, the external 4-channel amplifier, the theoretical coverage is increased by 50%, the bandwidth of 80MHz, and the support of MU-MIMO and OFDMA technology.
What is QAM?
Compared with the 256-QAM of Wi-Fi 5, what changes does 1024QAM have? In the Wi-Fi 5 AC protocol, a 5G band antenna is usually 433Mbps, and the Wi-Fi 6 AX protocol is increased to 600.5Mbps, so a higher QAM can obtain a more stable rate in a poor signal environment.
What is MU-MIMO?
Like the Xiaomi Wi-Fi 6 router, the Redmi AX5 also supports MU-MIMO, OFDMA and other technologies. Among them, MU-MIMO can make multiple devices surf the Internet more smoothly. Users with larger apartment sizes are recommended to use multiple routers for Mesh networking. The same is true for the AX5. Support, it can be mixed with Xiaomi AX3600/AX1800 for networking.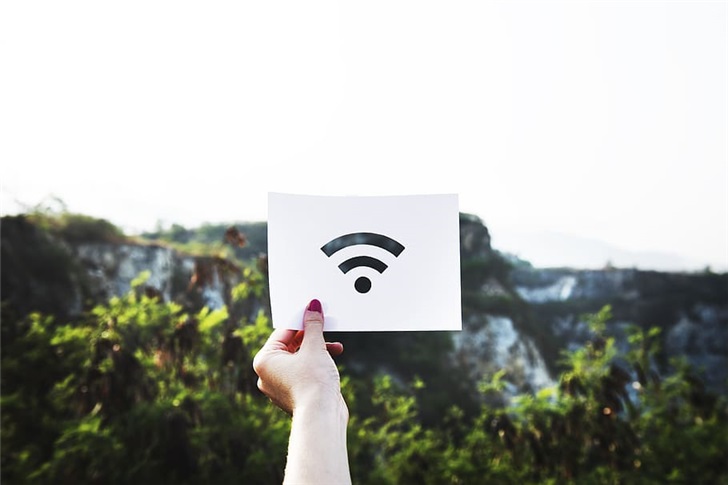 What is OFDMA?
OFDMA technology is the evolution of OFDM technology. Generally speaking, it can transmit more devices at a time for data transmission, and use frequency division multiplexing technology to subdivide the resources of Wi-Fi channels again, distribute them to each device, and reduce network delay at the same time.
What is bandwidth?
Bandwidth refers to the effective bandwidth corresponding to the frequency band channel. The higher the bandwidth, the faster the transmission rate. It has nothing to do with the ability to pass through the wall. Our common Wi-Fi 5 routers are divided into 20MHz, 20/40MHz, 40MHz, 80MHz (5GHz introduction), And Wi-Fi 6 has been upgraded to 160MHz ultra-high bandwidth, how fast is the speed? Take the 40MHz bandwidth of 2.4GHz and the 80MHz bandwidth of 5GHz to see the comparison, which doubles the rate.
However, it should be noted that the Redmi AX5 only supports 80MHz bandwidth, but most mobile phones that support Wi-Fi 6 also support a maximum bandwidth of 80MHz, so it is enough for Wi-Fi 6 models.
In addition, compared with Wi-Fi 5, the single-stream bandwidth of Wi-Fi 6 can reach 1200Mbps, and the frequency of broadcasting wireless signals is higher, which makes the device connection more stable, and the maximum bandwidth is increased to 9.6Gbps, but it must be 8×8 to run full. , so it is only a theoretical value.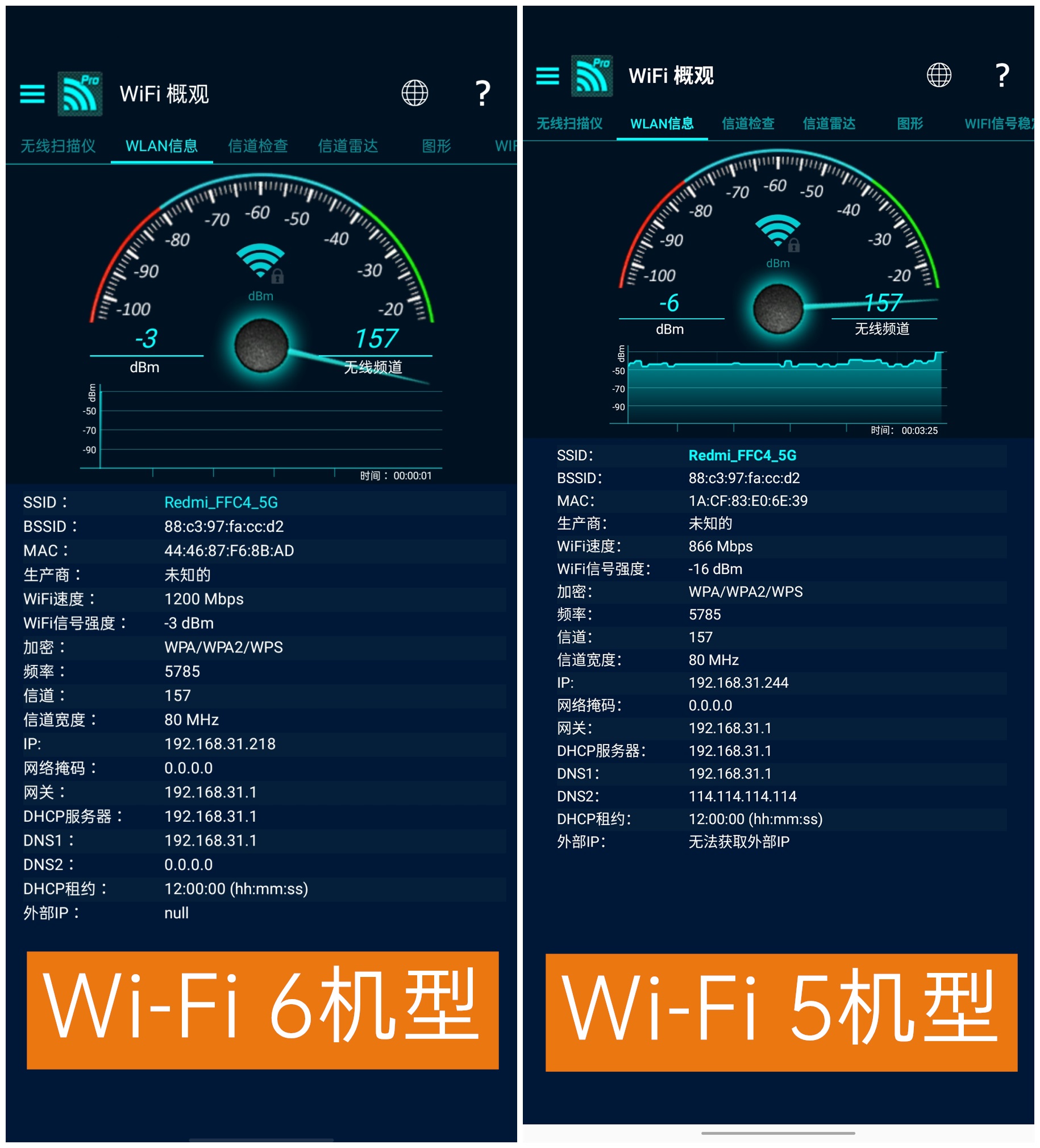 Four,practical testing
Test items: 5GHz signal strength and rate of Wi-Fi 6 models and Wi-Fi 5 models.
Test tools: AnTuTu V8 network test; Wi-Fi overview professional version to test signal strength.
Test environment: normal office, 300M broadband, seven types of network cables, the average download rate is about 247Mbps (30M/s), and the average upload rate is about 114Mbps (14MB/s).
It is divided into close distance, ordinary living room distance, extreme distance, etc. Among them, close distance means that the device and the router are in the same room without any separation; the ordinary living room distance is separated by a non-load-bearing wall; the extreme distance refers to a distance of about 20 meters. Multiple rooms and load-bearing walls are partitioned, as shown in the diagram below.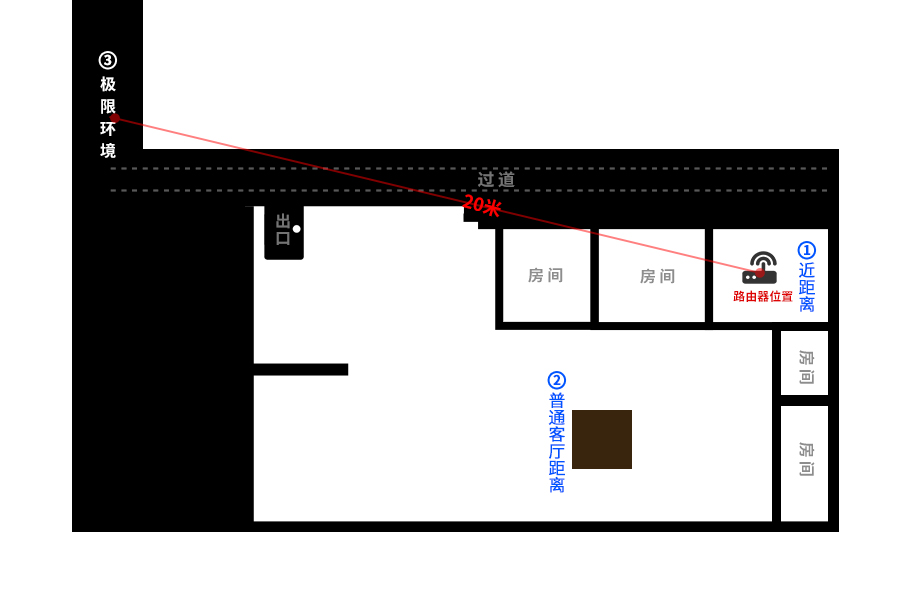 1、Proximity Signal and Internet Speed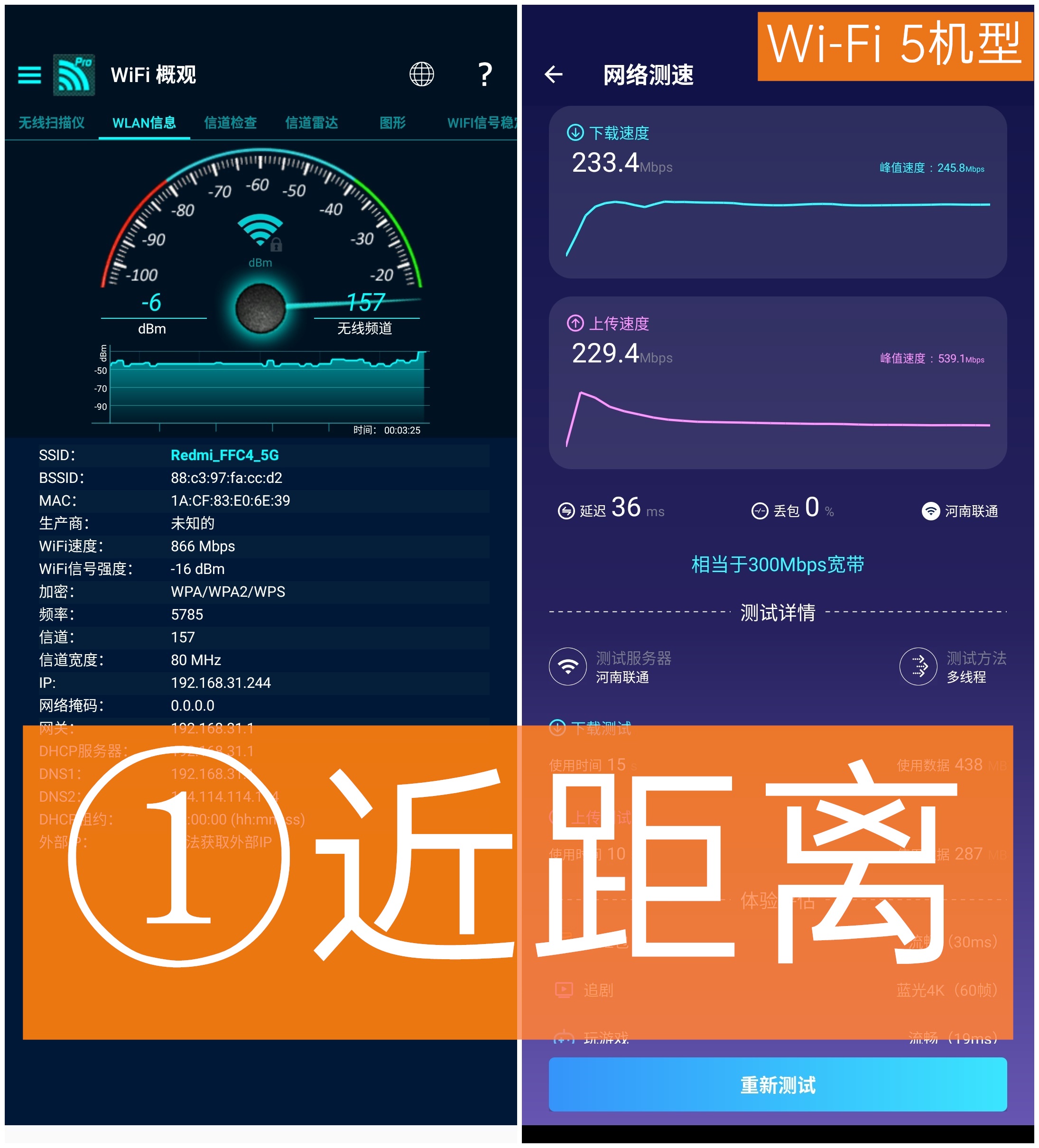 After testing, the Wi-Fi 5 model has a close-range download speed of 233.4Mbps and an upload speed of 229.4Mbps.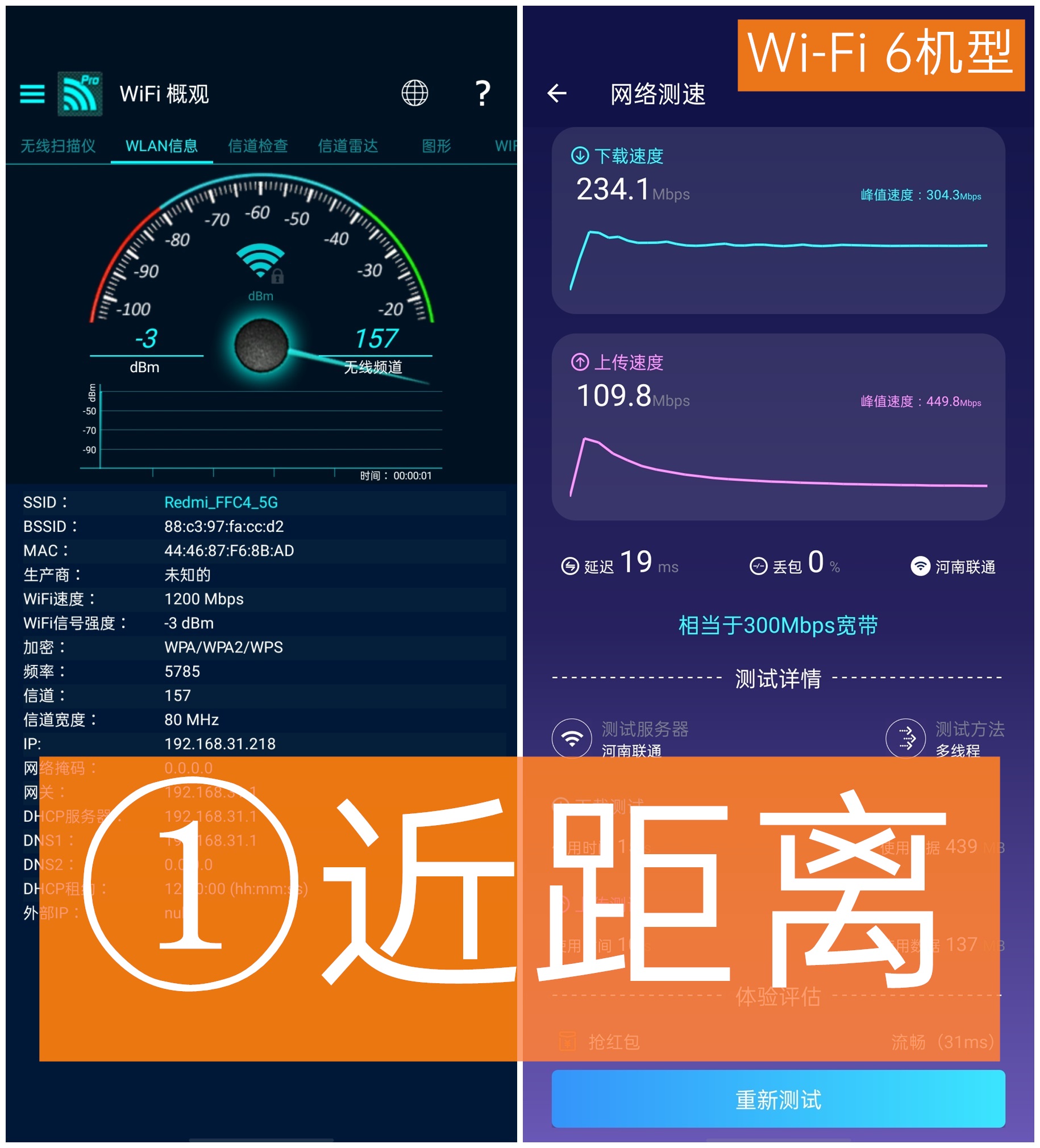 The Wi-Fi 6 model has a close-range download speed of 234.1Mbps and an upload speed of 109.8Mbps.
2、Living room distance signal and internet speed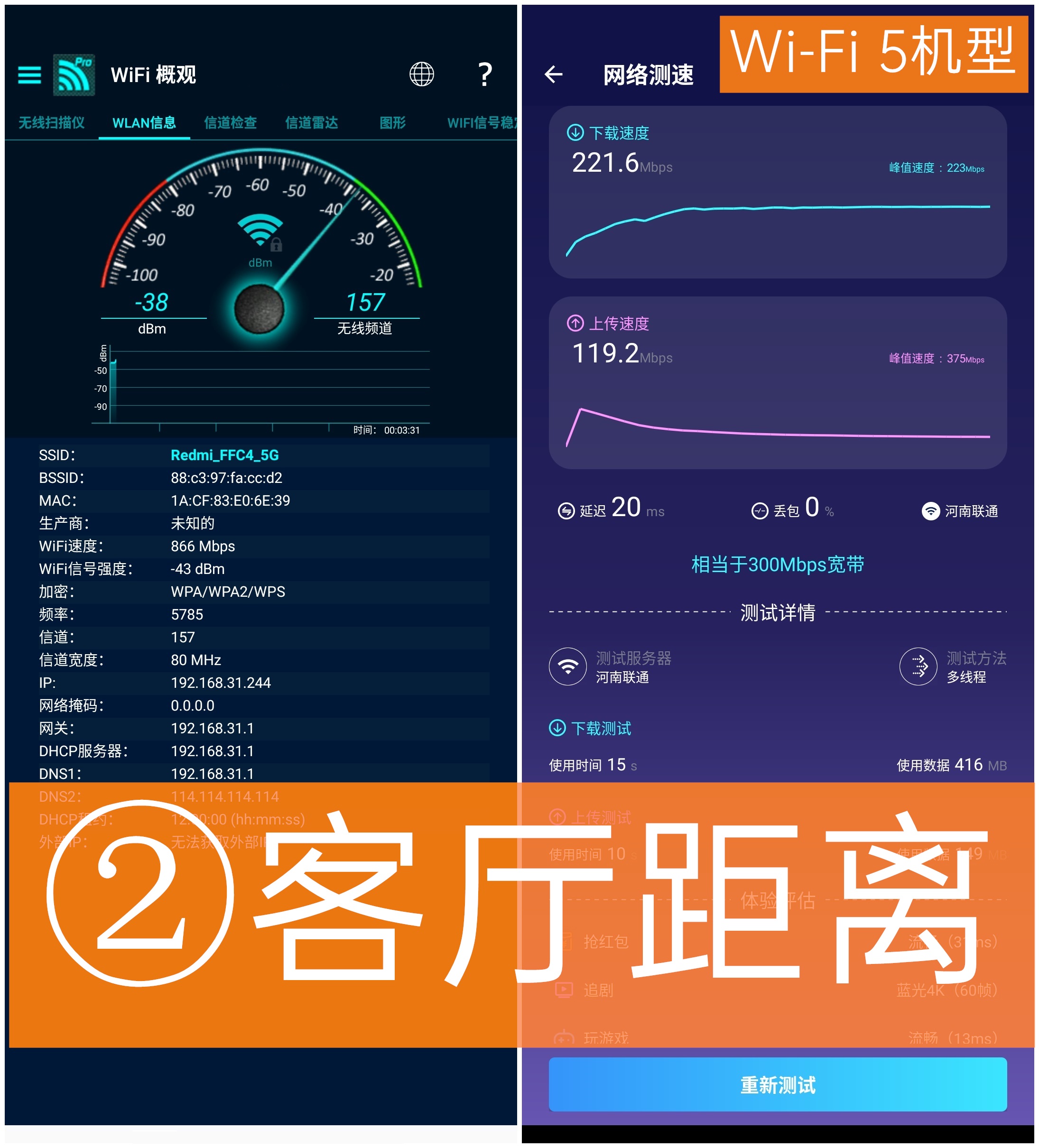 After testing, the Wi-Fi 5 model living room distance download speed is 221.6Mbps and upload speed is 119.2Mbps.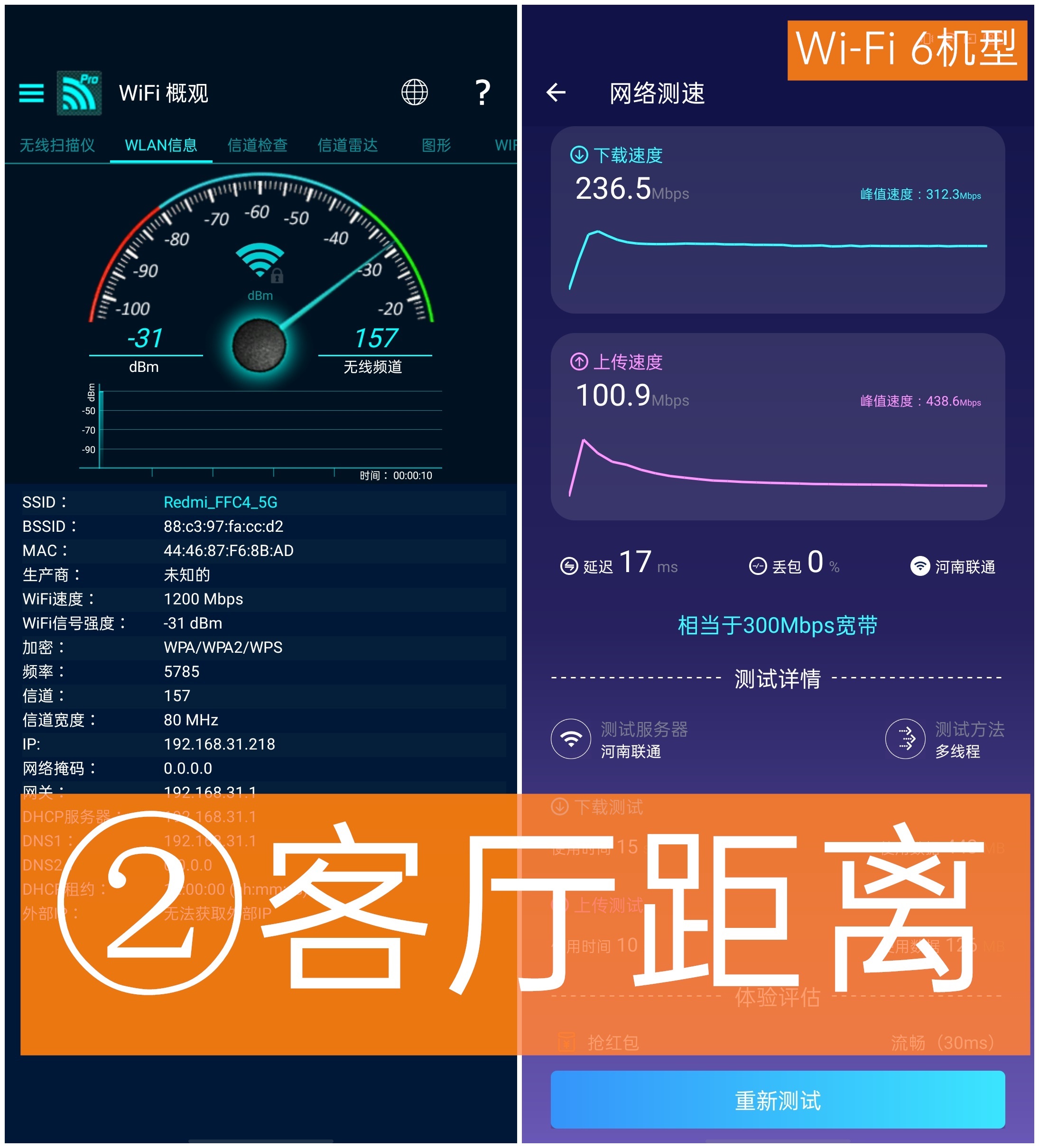 The Wi-Fi 6 model has a download speed of 236.5Mbps and an upload speed of 100.9Mbps from the living room distance.
3、limit distance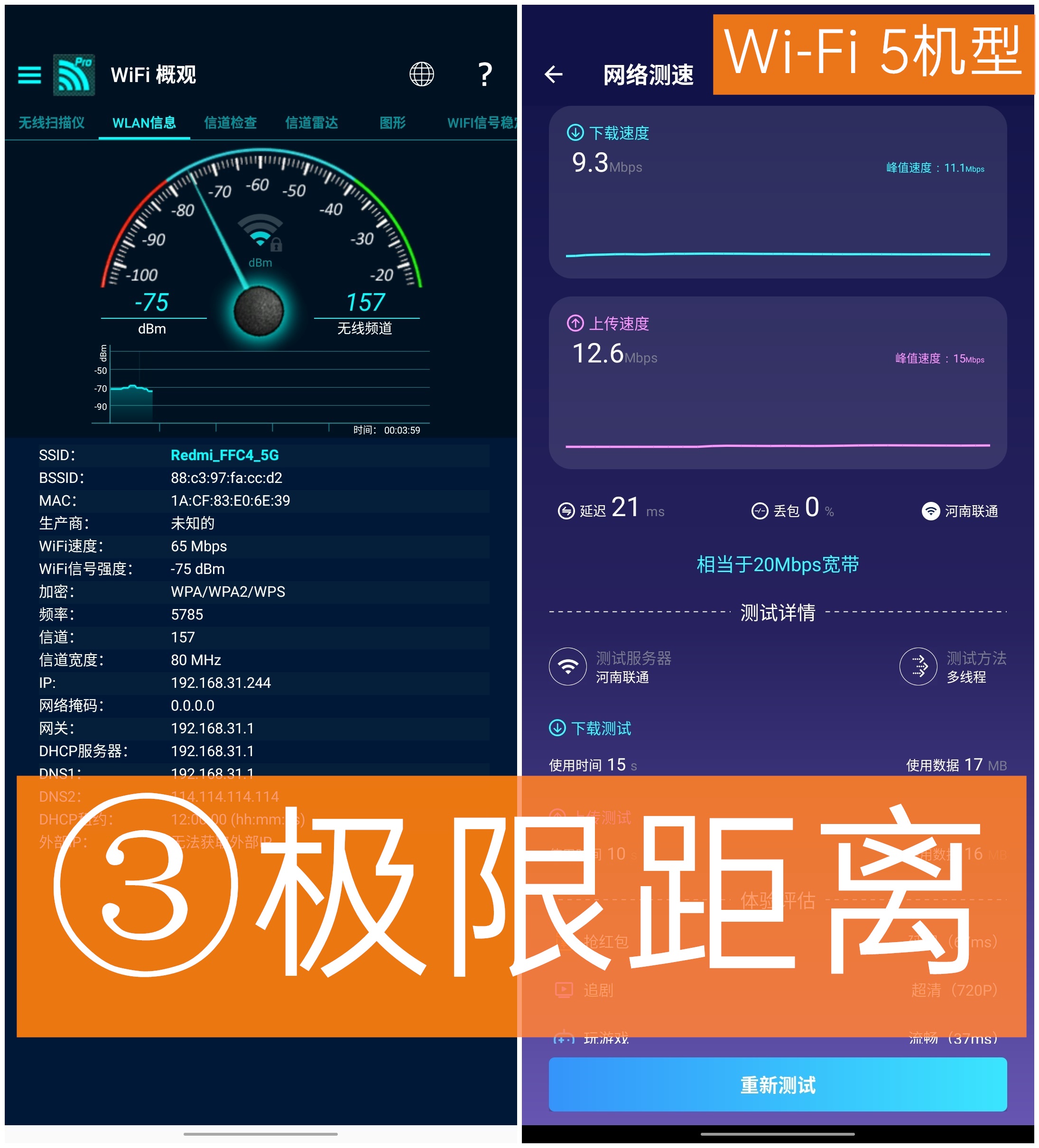 After testing, the Wi-Fi 5 model has a download speed of 9.3Mbps and an upload speed of 12.6Mbps at the limit distance.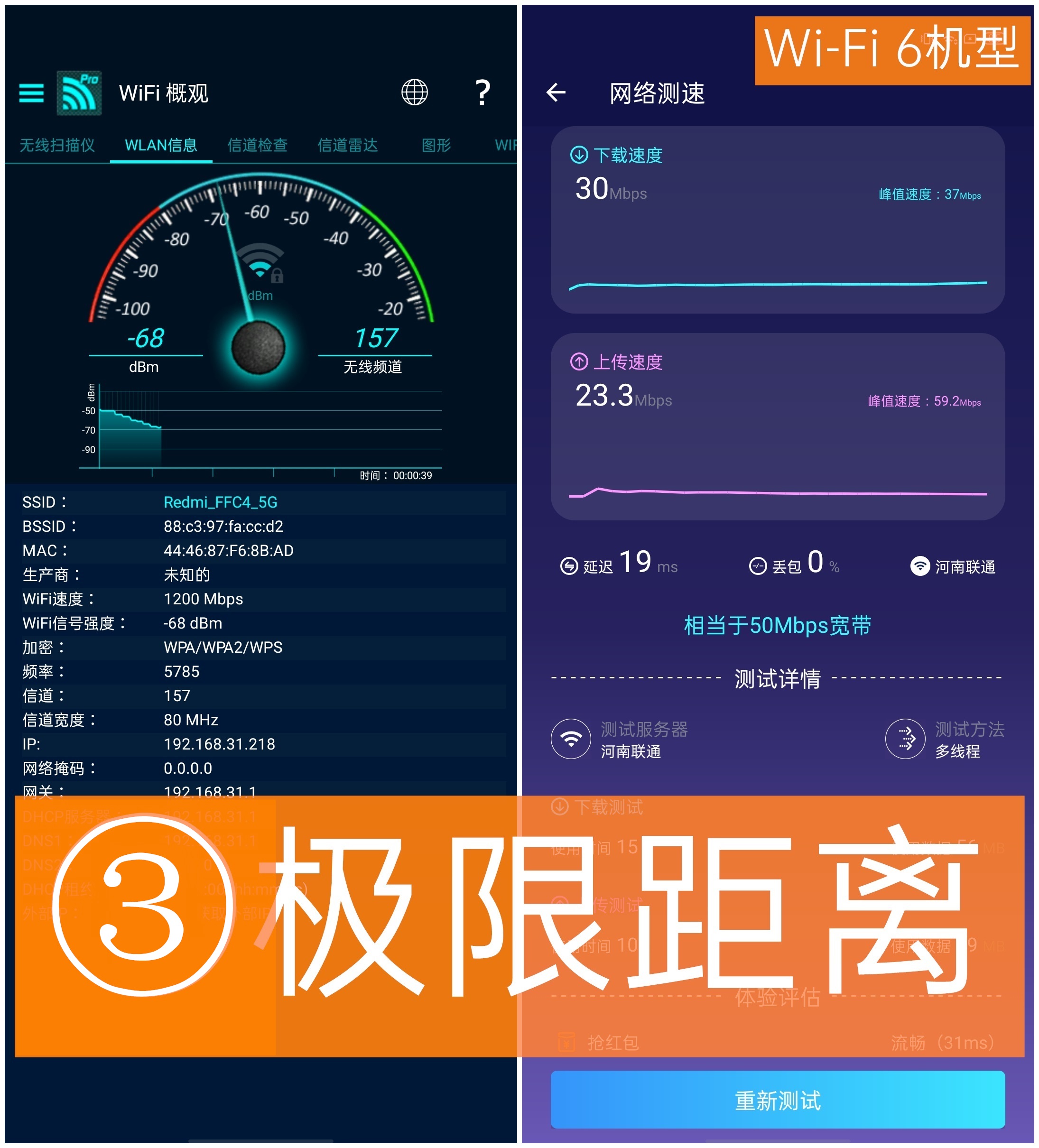 The Wi-Fi 6 model has a limit distance download speed of 30Mbps and an upload speed of 23.3Mbps.
The test results are as follows: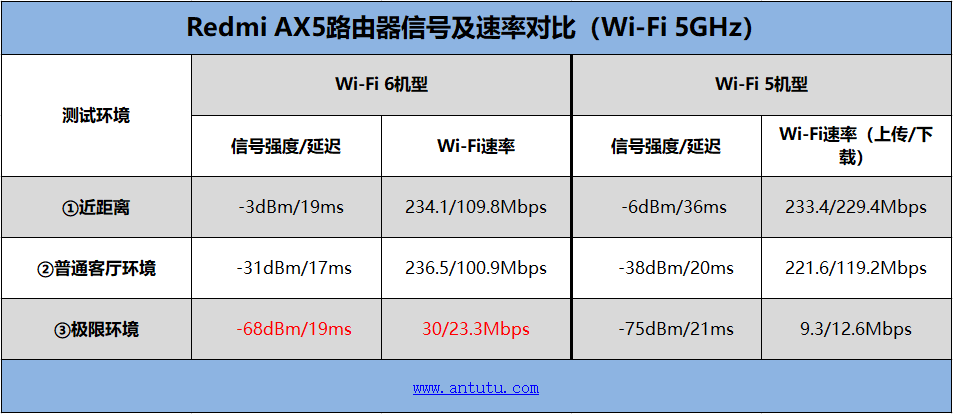 It can be seen from this that the Wi-Fi 6 model is more stable in connection with the Redmi AX5, and can maintain a stable rate even at extreme distances; compared to the Wi-Fi 5-only model, it has doubled.
If your mobile phone does not support Wi-Fi 6, it can also run at nearly full speed in ordinary environments. The reason is that Wi-Fi 6 supports backward compatibility. When using a device that does not support Wi-Fi 6 to access the network, it will automatically switch to Wi-Fi 5 without any significant slowdown.
In addition, thanks to the characteristics of Wi-Fi 6, the Redmi AX5 also has a good delay, especially when the access device also supports Wi-Fi 6, the delay can be controlled below 20ms, which is very necessary for users who like to play games.
Fives,Summarize
From the configuration point of view, the Redmi AX5 and Xiaomi AX1800 are basically the same, but the appearance has been changed, and the price has been adjusted accordingly, and 3 months of Tencent Online Game Accelerator members will be given for free.
In terms of functions, Redmi AX5 supports multiple Mesh networking, which can be mixed with Xiaomi AX3600/AX1800, but we don't support this one yet, it should be a follow-up upgrade push, Mesh networking can realize seamless connection of multiple routers .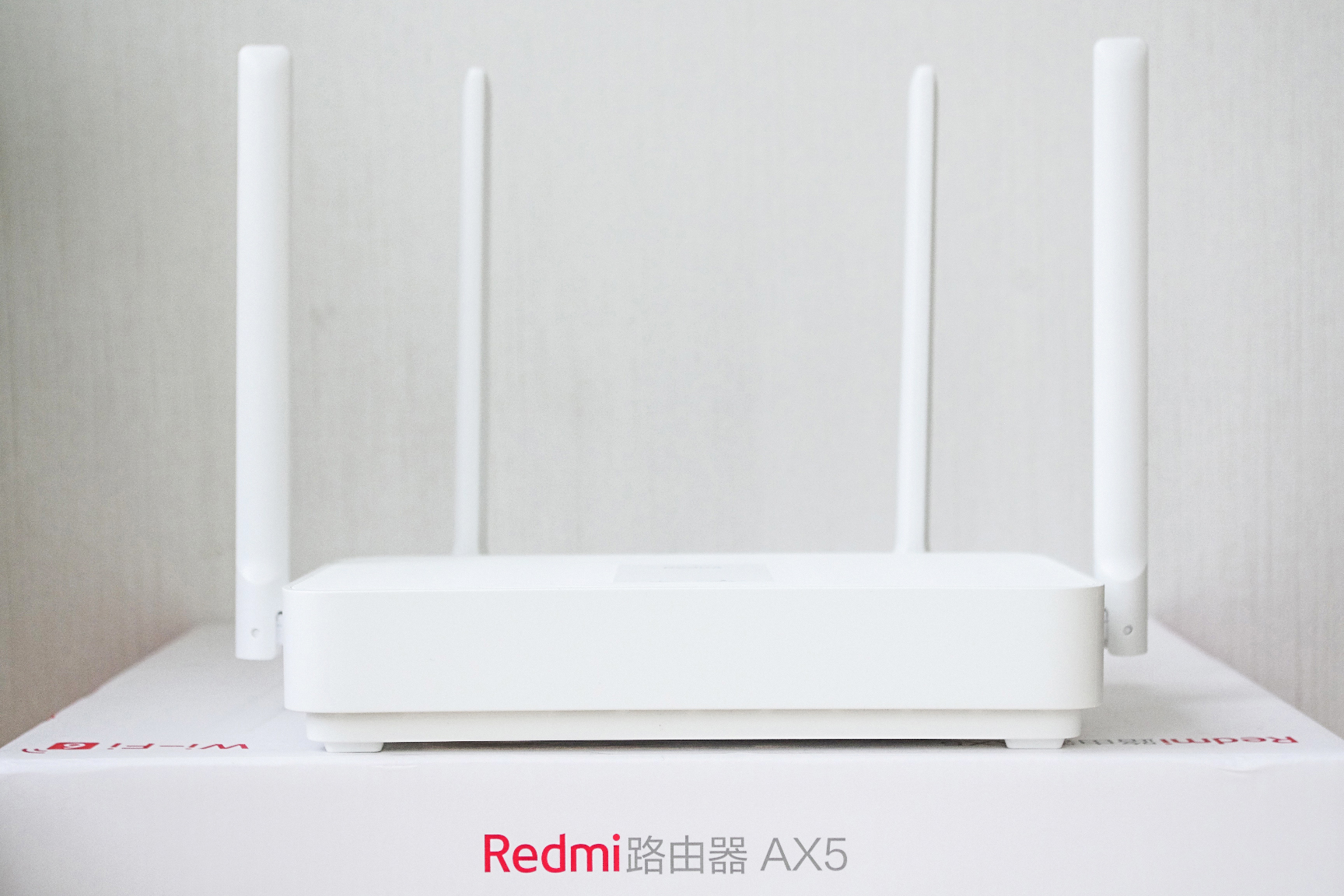 For an entry-level product, with 14nm processor, 1200Mbps single-stream bandwidth, Mesh, four Qovro high-performance independent signal amplifiers, etc., the configuration of Redmi AX5 is absolutely worthy of its price, compared to the current Wi-Fi 5 The router, AX5's 229 yuan is very lethal, accelerating the popularity of Wi-Fi 6. As Redmi's first Wi-Fi 6 router, AX5's performance is full of sincerity.