After the iOS performance list, the iOS praise list will be updated. As the last issue in 2021, the iOS praise list and the performance list have maintained a surprisingly consistent consistency, that is, except for the percentage of individual products, the last two decimal points are slightly different. In addition to the changes in the rankings, there is almost no change in the rankings. It is normal, and everyone is used to it.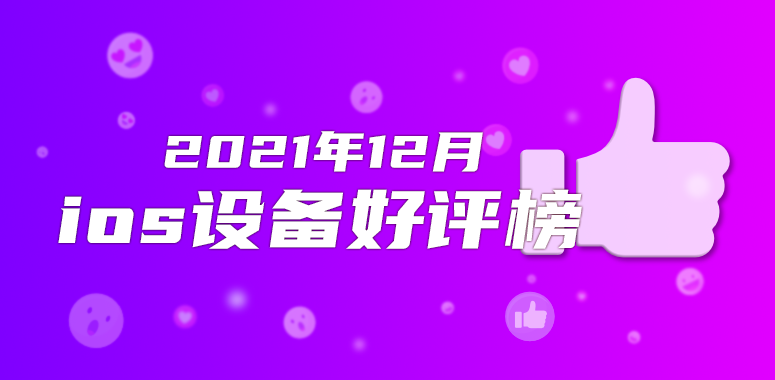 Note: The more 5-star models (note the highest is 5 stars), the higher the positive rating; the data source is Mobile Update Review; the data collection time is from December 1st to December 31st, 2021, domestic only market.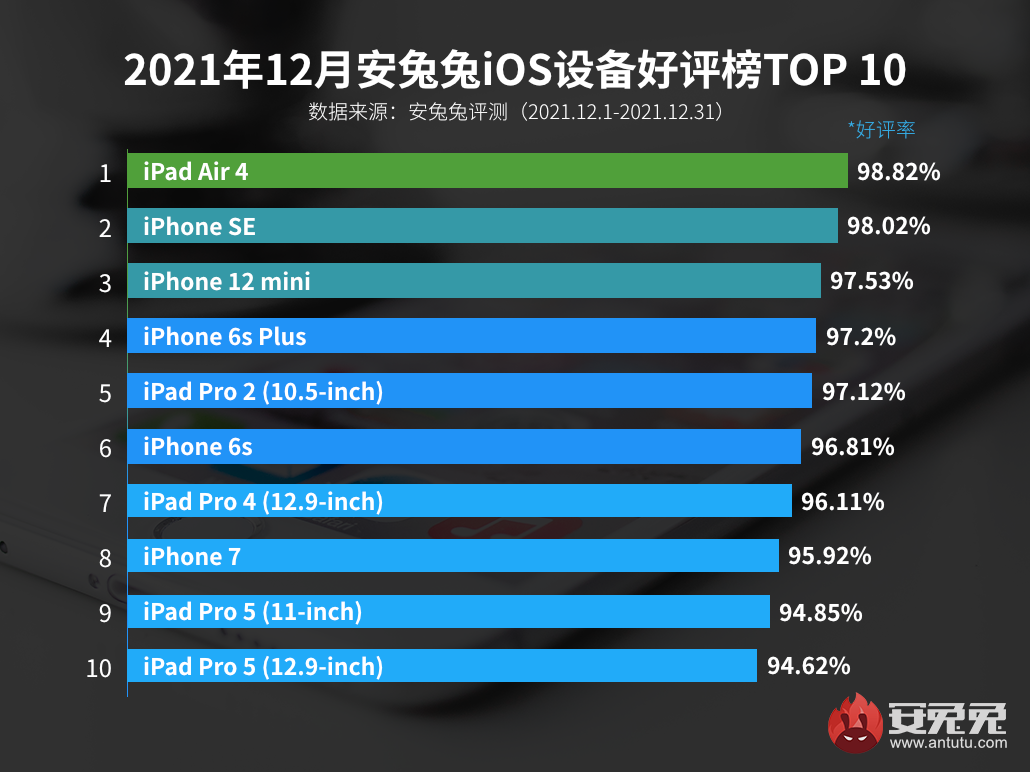 1st place: iPad Air4
Positive rate: 98.82%
Second place: iPhone SE
Positive rate: 98.02%
Third place: iPhone 12 mini
Positive rate: 97.53%
The top three products are still those models, followed by iPad Air4, iPhone SE (first generation) and iPhone 12 mini.
It can be said that the first generation of iPhone SE can be carried on the praise list to this day. As a product released in 2016, although it missed the performance list after a lapse of 6 years, it is firmly welded to death. The high praise list shows its weight in the mobile phone market that year.
Another flagship product with a small screen, the iPhone 12 mini, also performed well. It seems that the appearance of the second-generation iPhone SE is indeed outdated. Everyone prefers a small screen with a full screen rather than a small screen with a 16:9 upper and lower bezels. .
In this year's Android mobile phone market, Xiaomi Mi 12 has also launched a small-screen product. If the iPhone cannot be activated, whether Xiaomi Mi 12 is competent this time, we will wait for its market performance in the first phase.
In addition to the top three, the other 7-10 iOS products on the praise list are iPhone 6s Plus (97.2% favorable rate), iPad Pro 2 (10.5-inch) (97.12% favorable rate), iPhone 6s (97.12% favorable rate) 96.81%), iPad Pro 4 (12.9-inch) (96.11% positive), iPhone 7 (95.92% positive), iPad Pro 5 (12.9-inch) (94.85% positive), iPad Pro 5 (12.9-inch) ) (94.62% favorable rate).
Although the two iPad Pro 5 products with M1 chip running scores above 100W are ranked first and second in the performance list, they need to accumulate word-of-mouth in the praise list, so they are only ranked ninth and second. Tenth, as the first-generation M1 chip carrier and the first product with a running score of over 100W, I believe that they can often be seen in the future iOS praise list.
The above is the entire content of Mobile Update's iOS device praise rating list in December 2021. See you next month.